Nova Scotian nurses travel to Boston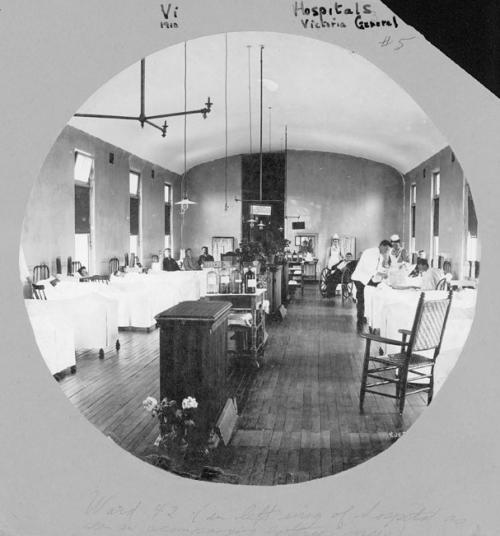 Ward 42, Victoria General Hospital, Halifax, N.S., 1910.
NSA Notman Studio no. 2027/neg. no.: N-0244
The flu in Boston
Boston, Massachusetts was one of the hardest-hit cities in the United States in the autumn of 1918. At Camp Devens near the city, 2,500 American soldiers were ill with influenza, with at least 70 dying in the first few weeks of September.  By 30 September there were at least 85,000 influenza cases in Massachusetts, most of them in Boston, with 1,256 already dead.
Repaying neighbourly kindness
With the assistance offered by the city of Boston in the aftermath of the Halifax Explosion in December 1917 fresh in the memory of Haligonians, nurses at the Victoria General (VG) hospital in Halifax decided to assist their American neighbours. At least one group were involved with St. John's Ambulance Brigade Voluntary Assistance Detachments or VADs, first created during the 1917 Halifax Explosion, and who volunteered their services in Massachusetts for three weeks.
In late September and October 1918, at least 32 Nova Scotian nurses decided to travel to Boston to assist. At least twelve of that group fell ill and gave their lives to repay the kindness shown Halifax by the citizens of Boston the year before. Georgina Flemming and Winnifred Flemming, sisters, were two such courageous women, both dying on the same day, on 12 October – highlighting how quickly the influenza could strike down young, healthy individuals.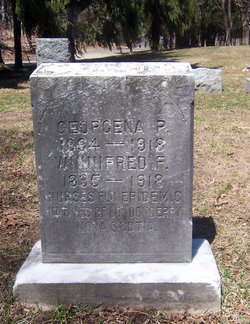 Gravesite of Winnifred and Georgina Flemming, Brockton Cemetery, Massachusetts. The headstone notes their role as "Nurses Flu Epidemic, Natives of Londonderry, Nova Scotia"
Find A Grave, database and images (https://www.findagrave.com : accessed 21 February 2019), memorial page for Winnifred F. Flemming (1895–8 Oct 1918), Find A Grave Memorial no. 145408180, citing Melrose Cemetery, Brockton, Plymouth County, Massachusetts, USA ; Maintained by LogicalGMW (contributor 47846471) .
First group of VG nurses in Massachusetts
While exact dates and details are unclear, it is believed that the first group of nurses from the VG to travel to Massachusetts included Gertrude Crosby, Christine H. MacInnes, Nora Duncanson, Ethel Redmond, Jessie Chisholm, Hilda Chisholm, Annie Gilmour, Ethel Taylor, and Eveline M. Pemberton. McInnis would become known as the "Nightingale of Nova Scotia" for her work in Boston.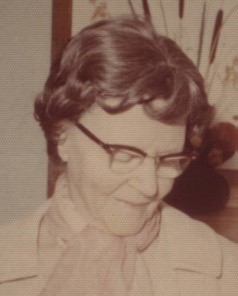 Christine H. McInnis.
Courtesy of Gloria Stephens.
Second group of VG nurses in Massachusetts
A second group of three, Greta Ogle, Mary L. Duffie, and Dorothy Merlin, followed. An additional seven nurses from the Halifax-Dartmouth region, including Mrs. H.M. Godfrey, as well as Mary Tompkins from Port Hood and the two Flemming sisters, also went to Boston, likely as part of these or similar groups.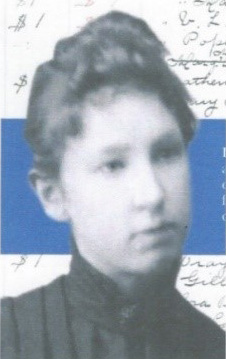 Eveline Pemberton.
Courtesy of Gloria Stephens.
An undergraduate nurse's baptism by fire – Ethel Redmond
Ethel Redmond, a VG graduate from the class of 1918, was the only undergraduate sent to Boston. Along with the other arrivals, she reported at the State House, where nurses were then taken by the local authorities to areas where the need was the greatest. Redmond and Ethel Taylor first went to Anna Jacques hospital in Newburyport, where they worked for 10 days before moving to Amesbury, where the Town Hall had been opened as an emergency hospital and had quickly filled with patients.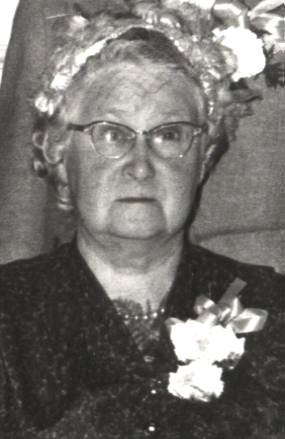 Ethel Redmond.
Courtesy of Gloria Stephens.
The Spanish flu hits Lockeport, NS
After ten days in Boston, Ethel Redmond was recalled by the VG, and asked to go to Lockeport, NS, along with two other nurses (Reta MacDonald and a Mrs. Pugh). Some 800 people were ill in that town, with a death rate up to 15 a day initially.  Ethel found her experiences quite traumatic, and contracted the illness herself, but through her "good nursing care" saved herself and several others even while sick.  She would later receive a commendation from the VG for her work in Boston and Lockeport, and all of those who went to Boston were recognized by the United States government for their assistance.
Carrie Mitchell from Dartmouth, N.S., a graduate of Worcester City Hospital School of Nursing, was in Massachusetts during the pandemic and told her parents that only four of the 100 nurses at her hospital had escaped the disease. Carrie was in charge of the sick nurses, and survived the pandemic, later returning to Ohio in the United States in 1924 to work as a nurse.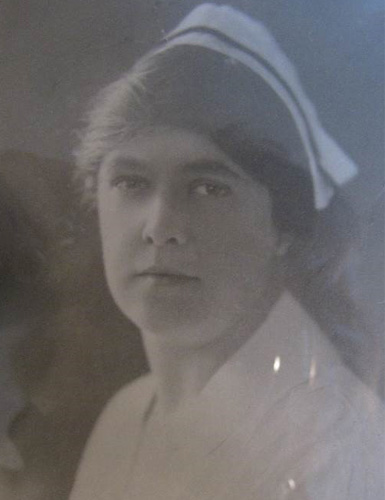 Lottie Flick.
Courtesy of Gloria Stephens.
Nursing care at home in Nova Scotia
As they had in the 1917 Halifax Explosion, the VADs helped in many ways during the pandemic, providing emergency kitchens and taking meals to families who were ill, and assisting at regular and emergency hospitals. Those who treated the sick at the VG itself and other hospitals across Nova Scotia were of course not immune from the pandemic – one VG nurse, Lottie Flick, and three young women enrolled in the School of Nursing - Etta Clarke, Merna Baker and Agnes Cox - all died from influenza.
The ultimate sacrifice
Julie Cadegan, a nurse from Glace Bay, visited Camp Devens near Boston where her son was a soldier. He had contracted influenza and she nursed him back to health. She then returned to Cape Breton and volunteered at an influenza hospital in Sydney. When she learned there were 100 cases of influenza at Marble Mountain, Inverness County, she volunteered to go there and look after the sick. Seven days later she died from influenza.  Many of these women, whose efforts in Boston and Nova Scotia have been largely unacknowledged by history, gave the ultimate sacrifice to assist their American neighbours as well as Nova Scotians.