The Nova Scotia Museum is responsible for the provincial collection of over one million artifacts and specimens. As well, we oversee the maintenance of more than 210 buildings, four floating vessels and nine locomotives. 
Nova Scotians and people around the world can experience part of the province's expansive museum collection online, from Jurassic-aged fossils to Mi'kmaq moose hair embroidery. Nova Scotia Made, Nova Scotia Used, Nova Scotia Found is a virtual exhibit showcasing images and information about 100 artifacts and specimens that reflect the diversity of the province's culture and heritage.
During African Heritage Month take time to honour and pay homage to African Nova Scotians and their long legacy of uniting a passion that has provided a base to educate and celebrate an important part of Nova Scotia's culture and Heritage. 
The Nova Scotia Museum Research Grants Program is now accepting applications for 2018.
Museum publications share research about our collection to advance our understanding of the world and encourage research by others.  The Museum publishes Books, Curatorial Reports, Infosheets, and Exhibit Research Reports.
2018 Honouree Mona Parsons
Resources for teachers: links to archival and museum materials for classroom use in discussing her story & the larger questions around Resistance to Nazi occupation in the Second World War.
Sign up for Nova Scotia Museum E-events, your monthly email update on all the latest events from across the Nova Scotia Museum.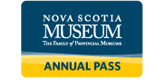 Unlimited Visits
Come for an hour or stay for the day.  The choice is yours with a Nova Scotia Museum Annual Pass.