Curatorial reports offer preliminary results from research on NSM collections or research carried out under a Museum program. They are of value to researchers, students, artists, planners, nature tourism operators and others who may be interested in learning more about these specialized topics. The Nova Scotia Museum has published numbered curatorial reports since 1967. Many are now available online through the Nova Scotia Museum Publishing catalogue.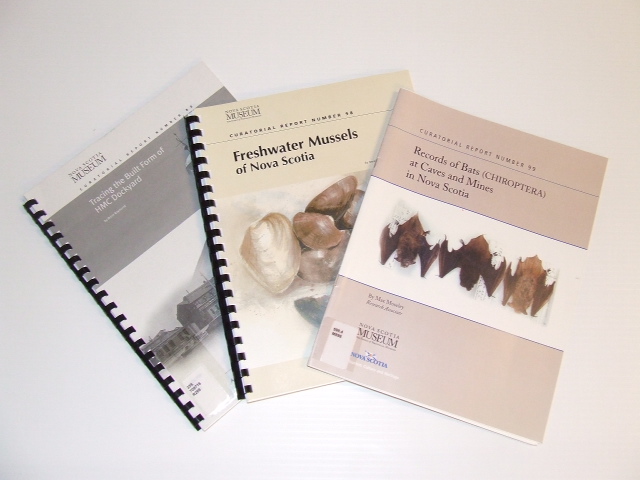 Curatorial Reports
Some of these reports are now available online. Others may be consulted at the Nova Scotia Museum Library. 
Please note: This resource is presented as originally published. The content of older reports may not reflect the current state of knowledge on the topic documented. Please be aware of this when using this resource.
Curatorial Report No.108, List of Fish found in the Freshwaters of Nova Scotia, by Andrew J Hebda, 2019
Curatorial Report No. 107,  Charlie's War: The Life and Death of a South African Labourer in the Canadian Expeditionary Force, 1917-1918 by Dr. Kirrily Freeman, 2019
Curatorial Report No. 106, The Robertson Building: An Archaeological and Architectural Survey by Laura A. de Boer, 2017
Curatorial Report No. 105, Report on the fish otolith collection at the Nova Scotia Museum of Natural History by Alfonso L. Rojo
Curatorial Report No. 104, Amphibians and Reptiles of Nova Scotia: Species Recorded in the Accession Books of Harry Piers 1899 to 1939, by John Gilhen, 2015
Curatorial Report No. 103, The Mi'kmaw Bestiary A Compendium of documented Mi'kmaw terms and phrases relating to animals, by Andrew J Hebda, 2014
Curatorial Report No. 102, List of Mammals of Nova Scotia with synonyms used in the literature relating to Nova Scotia, including Mi'kmaw names for Mammals, by Andrew J Hebda, 2014
Curatorial Report No. 101, Macrolichens of Nova Scotia: a provisional checklist, by Frances Anderson, 2014
Curatorial Report No.100, Osteological Atlas of the Brown Bullhead (Ameiurus nebulosus) from Nova Scotia Waters: A Morphological and Biometric Study, Dr. Alfonso Rojo, 2013
Curatorial Report No. 99 Records of Bats (chiroptera) at caves and mines in Nova Scotia, Max Moseley, 2007
Curatorial Report No. 98 Freshwater mussels of Nova Scotia, Derek Davis, 2007
Curatorial Report No. 97 Gaelic Nova Scotia, Michael Kennedy, 2002
Curatorial Report No. 96 Morphological and biometric tudy of the bones of the buccal apparatus of some Nova Scotia fishes of archaeological interest, Alfonso L. Rojo, 2002
Curatorial Report No. 95 Archaeology in Nova Scotia 1992, 1993 and 1994, 2001
Curatorial Report No. 94 The Shelburne Black Loyalist: a short biography of all Blacks emigrating to Shelburne County, Nova Scotia after the American Revolutions, 2001
Curatorial Report No. 93 Was this the home of Stephen Blucke?, Laird Niven, 2000
Curatorial Report No. 92 Archaeological surveys in two black communities, 1998, Stephen Powell, 2000
Curatorial Report No. 91 Black Loyalists of Nova Scotia,  Carmelita Robertson, 2000 
 Curatorial Report No. 90 The Nova Scotia Museum Isle Haute Expedition, July 1997, 2000
Curatorial Report No. 89 Fishes of Nova Scotia: Species Recorded in the accession books of Harry Piers from 1899 to 1939, John Gilhen, 1999
Curatorial Report No. 88 Tracing the built form of HMC Dockyard, Brent Raymond, 1999
Rapport du Conservateur No. 87 Un regard sur 'lAcadie: Trois Discours Illustrés, 1999
Curatorial Report No. 87 Looking into Acadie: Three Illustrated Studies, 1999
Curatorial Report No. 86 The invertebrate fauna of Nova Scotia caves, Max Moseley, 1998
Curatorial Report No. 85 Music in Nova Scotia-- the written tradition, 1752-1893, Paul Martell, 1998
Curatorial Report No. 84 Music in Nova Scotia; The Oral Tradition,  Matthew D. McGuire, 1998
Curatorial Report No. 83 Needle arts in Nova Scotian women's lives, Jo-Ann Citrigno, 1998
Curatorial Report No. 82 Archaeology in Nova Scotia 1991, 1996
Curatorial Report No. 81 Mi'kmaq textiles twinings, Joleen Gordon, 1997
Curatorial Report No. 80 Mi'kmaq textiles: sewn-cattail matting, BkCp-1 site, Pictou, Nova Scotia, Joleen Gordon, 1995
Curatorial Report No. 79 Frogwatch '94: Program Development and results, Susan Browne, 1994
Curatorial Report No. 78 Atlas of rare vascular plants in Nova Scotia,
Gilda Pronych and Alex Wilson, 1993
Curatorial Report No. 77 Archaeology in Nova Scotia, 1989 and 1990, 1993
Curatorial Report No. 76 Construction and reconstruction of a Mi'kmaq      sixteenth-century cedar bark bag, Joleen Gordon, 1993
Curatorial Report No. 75 Nova Scotia : the protohistoric period 1500-1630, Ruth Holmes Whitehead, 1993
Curatorial Report No. 74 Archaeological investigations on the Uniacke Estate, Hants County, Nova Scotia, 1992, Laird Niven, 1993
Curatorial Report No. 73 The woven weirs of Minas, Joleen Gordon, 1993
Curatorial Report No. 72 The Edward Ross store in New Ross, Nova Scotia, c.1835-1845, Miles Russell, 1992
Curatorial Report No. 71 Cataloguing the contents of the mills, Calum N. Ewing, 1992
Curatorial Report No. 70 Uniacke Estate Seminar, 1989, 1991
Curatorial Report No. 69 Archaeology in Nova Scotia 1987 and 1988, 1991
Curatorial Report No. 68 The fauna of Sable Island, Barry Wright, 1989
Curatorial Report No. 67 Melanson a large Micmac village in Kings County, Nova Scotia, Ronald J. Nash and Frences L. Stewart, 1990
Curatorial Report No. 66 Micmac, Maliseet and Beothuk collections in Europe and the Pacific, Ruth Holmes Whitehead, 1989
Curatorial Report No. 65 Belleisle, Nova Scotia, 1680-1755, Marc Lavoie, 1987
Curatorial Report No. 64 The Myers family of Jeddore, Deborah E. Trask, 1988
Curatorial Report No. 63 Archaeology in Nova Scotia 1985 and 1986, 1987
Curatorial Report No. 62 Micmac, Maliseet, Beothuk collections in Great Britain, Ruth Holmes Whitehead, 1988
Curatorial Report No. 61 The late prehistory of Nova Scotia as viewed from the Brown site, Helen Louise Sheldon, 1988
Curatorial Report No. 60 The Simeon Perkins house, Allen Penney, 1988
Curatorial Report No. 59 Plant fibre textiles from the Hopps site, Ruth Whitehead, 1987
Curatorial Report No. 58 Gold mining and milling in the Sherbrooke Gold District, 1861-1906, Kathy Moggridge Kuusisto, 1987
Curatorial Report No. 57 Mi'kmaq : economics and evolution, Ronald J. Nash, 1986
Curatorial Report No. 56 Planning for ecological reserves in Nova Scotia, Geoffrey E. Katz, 1986
Curatorial Report No. 55 Archaeology in Nova Scotia 1981-1984, 1985
Curatorial Report No. 54 Synopsis and distribution tables of land and freshwater mollusca of Nova Scotia, Derek S Davis, 1985
Curatorial Report No. 53 An introduction to the Cenozoic Ostracoda      (Crustacea) of Arctic and Eastern Canada, Ursula Grigg, 1985
Curatorial Report No. 52 Index of the Nova Scotia  Museum economic minerals collection, Author: Robert G. Grantham, 1985
Curatorial Report No. 51 Index of the Nova Scotia Museum Mineral Collection, Robert G Grantham, 1985
Curatorial Report No. 50 The Hayes Cave site South Maitland, 1985
Curatorial Report No. 49 Important ecological sites in Nova Scotia, Robert Ogilvie, 1984
Curatorial Report No. 48 Belleisle 1983: Excavations at a Pre-Expulsion Acadian Site, David Christianson, 1984
Curatorial Report No. 47 The Fisherman's Life Museum, Anita C Jackson, 1983
Curatorial Report No. 46 Provisional notes on the rare and endangered plants and animals of Nova Scotia, Wendy Isnor, 1981
Curatorial Report No. 45 Distributions, habitats and vulnerability of amphibians, reptiles, and small native mammals in Nova Scotia, John Gilhen and Fred Scott, 1981
Curatorial Report No. 44 Aquatic fauna of the Shubenacadie head-water lakes, Derek S. Davis, 1981
Curatorial Report No. 43 Polychaetous annelids in the Nova Scotia Museum collection, Patricia  Pocklington, 1979
Curatorial Report No. 42 The Mineralogy Collection, Robert Ogilvie, 1979
Curatorial Report No. 41 Leech (Hirudinoidea) records for the province of Nova Scotia, Jan M LeBlanc, 1979
Curatorial Report No. 40 The Cole Harbour Heritage Farm parkland, 1979
Curatorial Report No. 39 The Fisherman's Life Museum landscape development proposals, Anita C. Jackson, 1979
Curatorial Report No. 37 Notes on the flora and fauna of six lakes in Cape Breton Highlands National Park, Derek Davis, 1979
Curatorial Report No. 36 Nova Scotian fleas, Barry Wright, 1979
Curatorial Report No. 35 The Wight Nature Preserve, Hubbards, Nova Scotia, 1978
Curatorial Report No. 34 The estuary of the St. Mary's River, Nova Scotia 1973, Derek S. Davis, 1976
Curatorial Report No. 33 Cephalopods in the Nova Scotia Museum collection, Elizabeth MacAlaster, 1977
Curatorial Report No. 32 Decapod crustaceans in the Nova Scotia Museum collection, Don Aldous, 1976
Curatorial Report No. 31 Benthic animals from Cruises P. 114 and P. 139, 1973 and 1974, Derek S. Davis, 1976
Curatorial Report No. 30 Catalogue of the ornithological collections of the Nova Scotia Museum, Fred Scott, 1975
Curatorial Report No. 29 - No report issued for this number
Curatorial Report No. 28 The Restoration of the Wile Carding Mill
Curatorial Report No. 27 Gardens of Shelburne, Nova Scotia, 1785-1820, Mary MacKay Harvey , 1975
Curatorial Report No. 26 - No report issued for this number
Curatorial Report No. 25  The Micmac ethnology collection of the Nova Scotia Museum, Ruth Holmes Whitehead, 1974
Curatorial Report No. 24 A collection of animals from Shelburne Harbour, 1973, Derek Sidney Davis, 1974
Curatorial Report No. 23 Visitor traffic at Sherbrooke Village, 1970 to 1974, Ian Harrison, 1974
Curatorial Report No. 22 Distribution, NH & Morphology of Blue Spotted Salamanders in NS
Curatorial Report No. 21 Excavations Site BeDi-2 Belleisle Annapolis County 1972
Curatorial Report No. 20 Archaeological Survey Reported Acadian Habitation Sites_Annapolis Royal Minas Basin, 1971
Curatorial Report No. 19 Excavations Complex Prehistoric Sites Uppers Reaches of Shubie River, 1971
Curatorial Report No. 18 An archaeological survey of the Shubenacadie River System, 1970, Brian Preston, 1974
Curatorial Report No. 17 - No report issued for this number
Curatorial Report No. 16 A catalogue of the A.H. MacKay lichen collection with a short biography of A.H. MacKay, John McDonald, 1973
Curatorial Report No. 15 Bats in the Nova Scotia Museum collection, Robert Barnes, 1973
Curatorial Report No. 14 An analysis of three samples of whelks from Nova Scotia waters, R. Paul McClung, 1973
Curatorial Report No. 13 Collections made in association with C.S.S. Hudson cruise 73-002, Paul S. Doleman, 1973
Curatorial Report No.12 Collections made in association with C.S.S. Dawson cruise 72-004, Paul S. Doleman, 1973
Curatorial Report No. 11 Leeches of the St. Mary's River watershed and leech records of the Nova Scotia Museum, R. Paul McClung, 1974
Curatorial Report No. 10 Marine animals collected during FRB cruise 104 1972, Derek Sidney Davis, 1973
Curatorial Report No. 9 Notes on a collection of specimens made by the Challenger Expedition 1873, Derek Sidney Davis, 1973
Curatorial Report No. 8 Freshwater mussels in the Nova Scotia Museum collection, Ursula Grigg, 1972
Curatorial Report No. 7 A preliminary survey of the cancrid crabs in Nova Scotia coastal waters, Pamela Malcolm, 1972
Curatorial Report No. 6 The small mammal survey, Fred Scott, 1972
Curatorial Report No. 5 Sphinx moths in the Nova Scotia Museum Collection, Barry Wright, 1972
Curatorial Report No. 4 Shrews, moles and myomorph rodents in the Nova Scotia Museum collection, Frederick Wheeler Scott, 1972
Curatorial Report No. 3 The fish collections of the Nova Scotia Museum, John Gilhen, 1969
Curatorial Report No. 2 Catalogue of marine crustacea in the Nova Scotia Museum, John Gilhen, 1968
Curatorial Report No. 1 Catalogue of the ornithological collections of the Nova Scotia Museum, Fred Scott, 1967