Nova Scotia Family Cook Book - summer recipes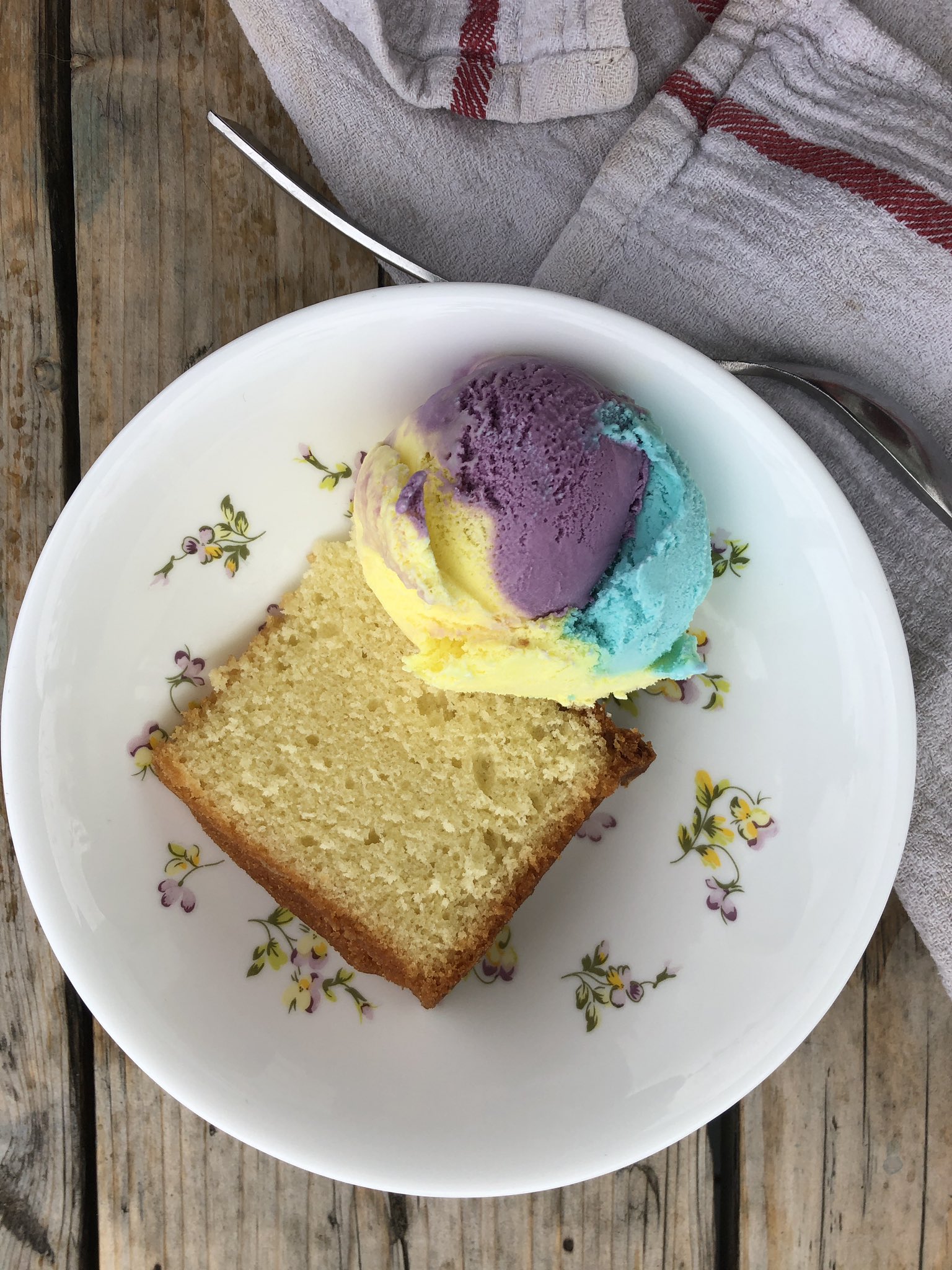 This summer we baked together. Please enjoy all of our Nova Scotia Museum summer recipes in one place. Remember you can always share your bake #NovaScotiaFamilyCookBook 
Week 1 - Uniacke Estate Museum Park - Lucy bread 
4 cups of flour 
2 cups of sugar 
1 cup of milk 
1 cup of butter 
3-4 eggs 
1 tsp baking soda 
And a little spice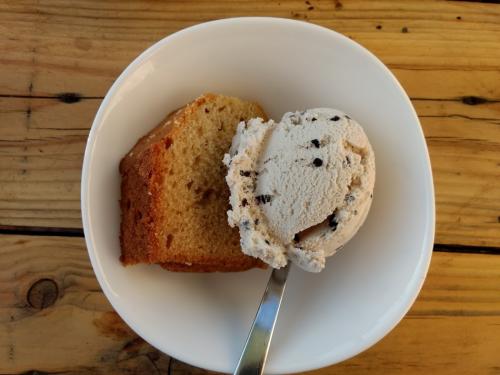 Week 2 - Prescott House Museum - "Good" Butterscotch Biscuits 
Ingredients 
2 cups sifted flour 
4 tsp baking powder 
1/2 tsp salt 
1/4 cup + 2 tbsp butter 
1 egg 
2/3 cup milk 
1/2 cup brown sugar 
Instructions 
Sift and mix dry ingredients. Cut in 2 tbsp butter until crumbly. Combine beaten egg and milk and add to dry ingredients and mix gently. When combined, roll out to 1/3 inch on floured covered surface. Spread with 1/4 cup butter creamed with 1/2 cup brown sugar. Roll like jelly roll, cut in slices one inch thick. Put in greased muffin tins with cut surface up. Sprinkle with brown sugar, dot with butter. Bake in hot oven (400F) for 15 - 20 minutes.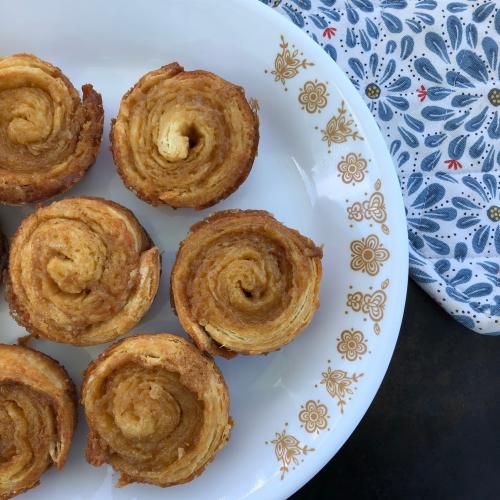 Week 3 - Prescott House - Mighty Good Squares  
1st: 1/4 cup butter 
1/4 cup shortening (or all butter if desired) 
½ cup brown sugar 
1 cup flour 
2 sq chocolate melted 
Cream together until fluffy and spread in well-greased and floured pan. Bake 4 minutes at 325. Let cool 
2nd: 
2 eggs well beaten 
1 cup brown sugar 
1 tbsp flour 
½ tsp baking powder 
1 cup coconut 
½ cup broken nuts 
Mix well and pour over the first part. Bake 25 minutes. Let cool 
3rd: 
½ cup butter 
1 ½ cups sifted icing sugar. 
Cream well then drop in 1 egg yolk add a scant 1/4 cup boiling water. Mix well and spread on the second mixture 
4th: 
Melt 2 squares chocolate add 1 tsp butter mix and spread evenly over the top of third part. 
*You can replace the egg yolk, 1/4 cup boiling water with 1/4 cup milk. 
*2 squares of chocolate = 2 oz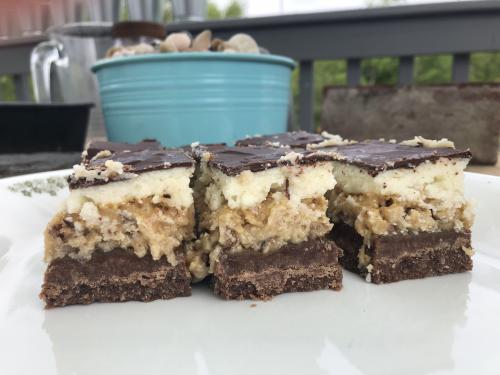 Week 4 - Fisherman's Life Museum - Rhubarb Torte  
Base 
1 cup flour 
2 tbsp white sugar 
¼ tsp salt 
½ cup margarine 
Mix ingredients and press into a 9 inch square pan 
Bake at 325F for 25 minutes 
Top 
1 1/4 cups white sugar 
½ cup cream 
2 tbsp flour 
3 egg yolks 
2 ¼ cup rhubarb, cut up fine 
Cook ingredients until thick and clear over medium. Pour over base. 
Meringue 
3 egg whites 
½ cup brown sugar 
Beat egg whites with sugar. Place on topping and bake until meringue has browned.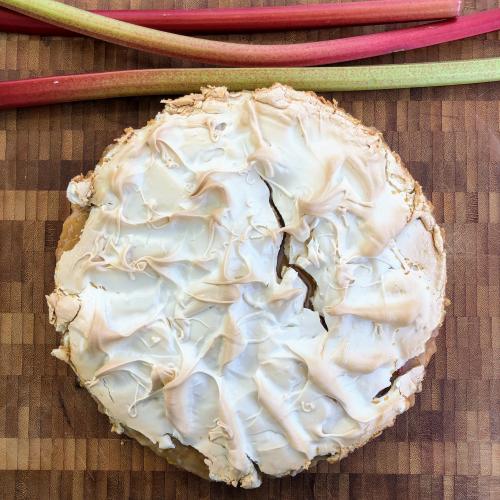 Week 5 - Highland Village - Oatcakes 
½ cup shortening 
½ cup butter 
½ cup white sugar 
½ tsp salt 
½ tsp baking soda (dissolved in 2 tbsp of hot water) 
1 ½ cups flour 
1 ½ cups rolled oats 
Mix shortening, butter, sugar and salt in mixer. Next add the hot water and soda. Add 1 cup of rolled oats and 1 cup of flour. Mix in the remaining ½ cup flour and ½ cup rolled oats with a wooden spoon. Roll oats out on to a floured surface and cut into squares. Bake at 350 degrees for 10-12 minutes.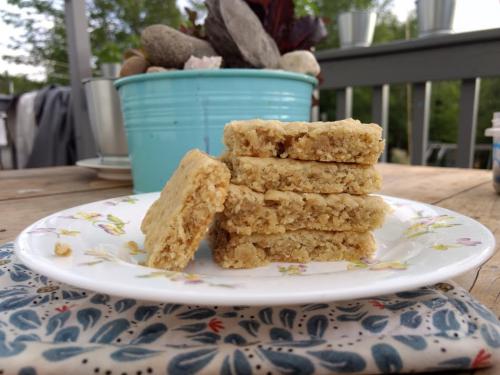 Week 6 - Sherbrooke Village - Maid of Honour Cookies 
½ cup shortening 
¾ cup brown sugar 
½ tsp vanilla 
2 eggs 
2 tsp baking powder 
1 tsp salt 
1 ½ cups of flour 
Jam 
Cream together shortening and brown sugar, add eggs and vanilla. Gradually add dry ingredients. Roll into balls & put thumb print in centre. Dot with jam. Bake 350 F. 7-10 minutes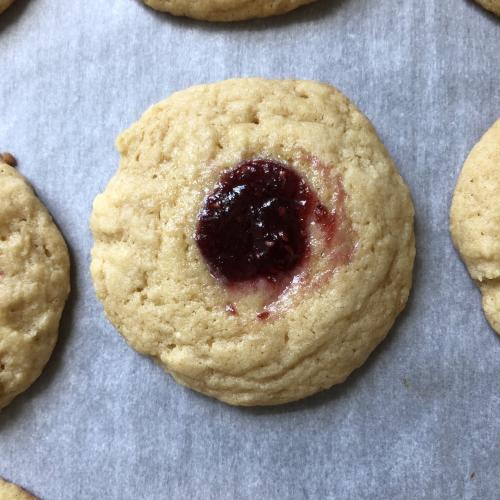 Week 8 - Prescott House - Strawberry Shortcake 
The Biscuit Recipe 
2 cups all purpose flour 
½ cup shortening 
1 tbsp sugar 
1 beaten egg 
4 tsp baking powder 
¾ cup milk 
½ tsp salt 
Sift together dry ingredients, cut in shortening until mixture resembles coarse crumbs. Combine egg and milk in a measuring cup and beat until mixed. Add this mixture to flour mixture all at once. Stir until dough follows fork around in bowl. The dough will be sticky but manageable. Turn out on a lightly floured board. Knead very lightly, about 15 strokes adding flour as needed. If you knead the dough too much the biscuits will become hard when baked. Roll out to ¾ inch thickness. Cut out with biscuit cutter and let them sit to rise just a bit. Bake at 375 F to 400 F oven until slightly browned, 12 to 15 minutes. 
The Strawberries 
Hull and wash one quart of fresh picked strawberries. Leaving whole, mash strawberries with potato masher. Once mashed to desired consistency, stir in ¼ to ½ cup of sugar or to desired taste. If not using immediately strawberries can be frozen. 
Strawberry Shortcake 
Ladle strawberries over a biscuit cut in half. Top with scoop of vanilla ice-cream. Serve with cup of tea and enjoy!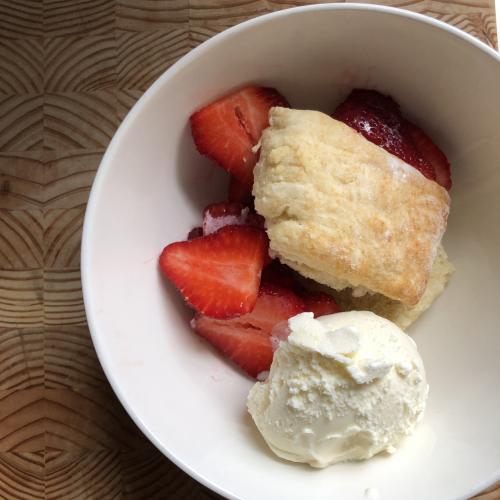 Week 9 - Black Loyalist's Heritage Centre - Nan's Pound Cake 
Ingredients 
3 cups flour 
1 tsp baking powder 
½ tsp salt 
1 cup butter 
½ cup shortening 
3 cups sugar 
6 extra large eggs 
1 cup milk 
Directions 
Stir together flour, salt, and baking powder.  Cream together butter, shortening and sugar.  Add eggs, 1 at a time, beating well after each addition.  Add dry ingredients alternately with milk.  Pour batter into greased tube pan.  Bake at 325F for 1 ½ hours.  Coll in pan for 15 minutes, then cool on rack.  Enjoy…..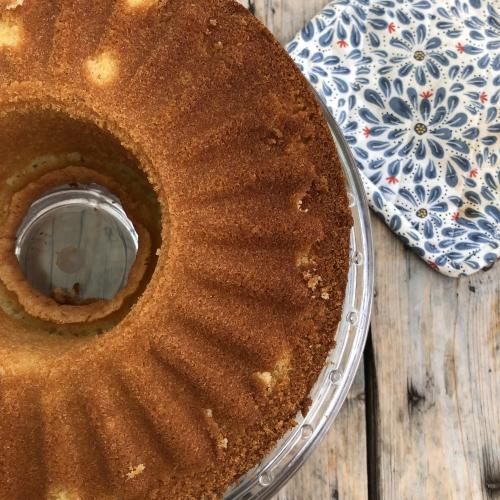 Week 10 - Barrington Woolen Mill - $100.00 Chocolate Cake 
1 cup of sugar 
1 cup of mayonnaise (miracle whip)  
2 cups cake flour  
4 tbsp cocoa  
1 ½ tsp soda  
1 cup cold water  
1 tsp vanilla  
Put everything in a bowl. Mix. Bake 50 min at 350 8" x 12" 
 Aunt Beulah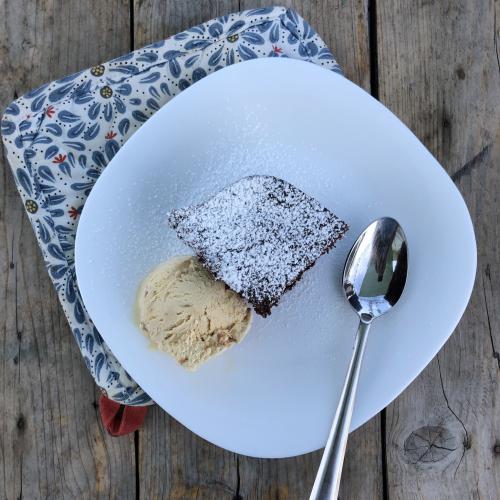 Week 11 - North Hills - Quick Gingerbread and Vinegar sauce 
½ cup white sugar 
1 egg  
½ cup butter (scant)  
¼ cup molasses  
½ cup milk  
1 teaspoon soda (baking)  
1 cup bread flour  
½ teaspoon cinnamon  
¼ teaspoon nutmeg  
½ teaspoon ginger 
Add soda to molasses, cream butter. Add sugar, cream again. Beat egg and add to sugar mixture. Then add molasses, milk and dry ingredients. Place in 8"x8" pan. Bake 30 minutes at 350 degrees. Serve with whipped cream or vinegar sauce for dessert. 
Vinegar Sauce  
1 cup brown sugar  
1 cup water  
2 tablespoons flour  
⅓ teaspoon salt  
3 tablespoon vinegar  
Mix together and cook slowly until thick.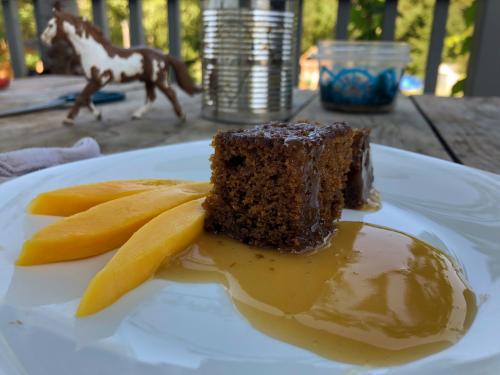 ​​
Week 12 - Wile Carding Mill - Rhubarb Jam 
5 cups rhubarb 
4 cups sugar - I only use 2 cups  
1 can crushed pineapple  
Bring to boil - boil 20 mins Stir in 2 Strawberry jello - mix well until all blended. Put in bottles and store in fridge.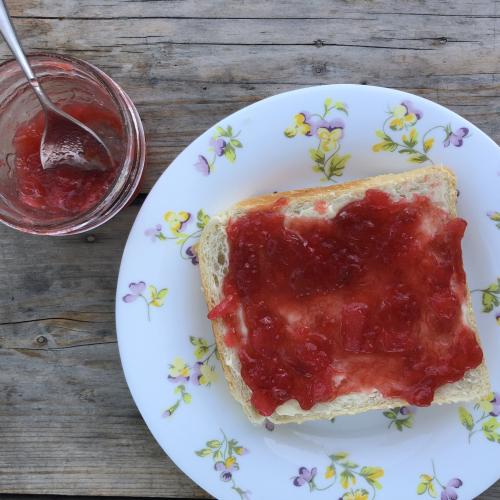 Week 13 - Fisheries Museum of the Atlantic - Blueberry Grunt 
1 quart blueberries 
½ cup water 
½ cup sugar 
2 cups flour 
2 tsp baking powder 
½ tsp salt 
1 tsp sugar 
1 tbsp butter 
Milk 
Combine first 3 ingredients in a saucepan and boil, stirring constantly until sugar is dissolved. Sift together dry ingredients. Cut in butter with a pastry cutter. Add enough milk to form soft dough. Drop spoonfuls into the berry mixture. Cover saucepan and cook for 15 minutes on low.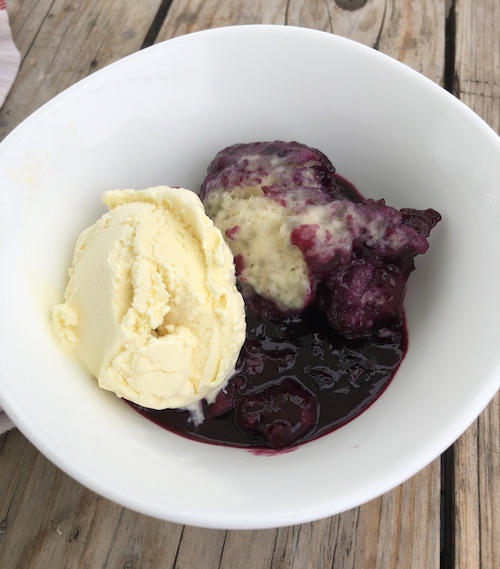 Bonus - Ross Farm Museum - Classic Molasses Cookies 
Ingredients 
1 lb. Lard melted
2 cups Molasses
2 cups Sugar (Cream together add cool lard)
2 Eggs
2 Heaping teaspoons soda, dissolved in 1/2 cup of hot water.
2 teaspoons Ginger
2 teaspoons Cinnamon
1 teaspoons Cloves
1 teaspoons Allspice
1 teaspoons
Salt 8 to 10 cups Flour (Best if left overnight)
Directions
Mix dry ingredients into soft mixture forming a dough you can handle. Roll out on floured board cut into cookies and bake 350 degrees approximately 10 minutes.