What happening in December across the Nova Scotia Museum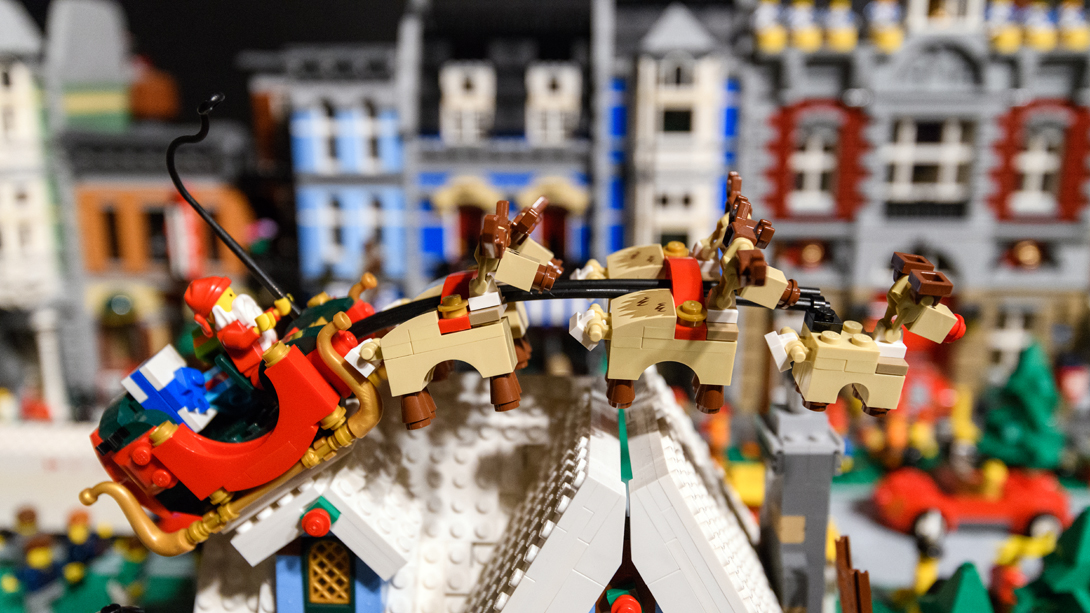 Here's some of the latest events from across the Nova Scotia Museum.
Museum of Natural History
Holiday Village 

On view now
Something special is happening at the Museum of Natural History! Come check out our huge LEGO city featuring many iconic Nova Scotian buildings. Make and showcase your own LEGO creations and take part in some fun scavenger hunts all over the Museum!
Also featured, the Mills Brothers' Snow White window display, this holiday tradition is not to be missed!
Wee Wild Ones!

Tues. December 4 from 10 am to 11 am
Have a whale of a time this spring with our Wee Wild Ones program!  Do you know a young child who loves to touch objects, ask questions and use their imagination? If so, join us on Tuesdays for Wee Wild Ones, a program where kids under 5 and their caregivers can explore the wonders of nature. Enjoy stories and puppet shows; explore real museum specimens; build with tree blocks; and much more. This program is not designed for daycare, school or other groups.
Maritime Museum of the Atlantic
Collision in the Narrows: The 1917 Halifax Harbour Explosion
The Maritime Museum of the Atlantic's 2017 special exhibit, Collision in the Narrows: The 1917 Halifax Harbour Explosion commemorates the 100th anniversary of this fateful event. The museum's permanent Explosion exhibit, Halifax Wrecked, shows what the Explosion did. The special exhibit investigates what it means, for those who suffered it, and for the world today. It examines the Explosion through three cultural movements that converged in The Narrows of Halifax Harbour on December 6, 1917: a deeply rooted indigenous culture, a global maritime culture, and a Canadian national culture.
Industrial Heritage Nova Scotia

Mon. December 3 at 7:30 pm (doors open at 7:00 pm)
Industrial Heritage Nova Scotia Industrial Heritage Nova Scotia invites you to join them for a free talk on Monday, December 3rd in the Meeting Room, located on the second floor of the Maritime Museum of the Atlantic. This month's guest speaker is Peter Oickle.
Bridgewater And Beyond

The Rise of a Community as a Commercial and Industrial Centre Bridgewater grew from a small community in the 1770's to become a modern town. That growth was made possible by the people, the forests and fields, and its greatest asset, The LaHave River. This presentation by Peter Oickle will focus on the early days of the community up to the coming of major industries such as Michelin, and the role the river played in the growth
Peter Oickle is a columnist for the Lighthouse Now on articles of our past, chair of the Bridgewater Museum Commission, heritage walks guide, and chair of the Downtown Planning Advisory Committee. Past chair of the Heritage Advisory Committee.
The Halifax Explosion and the Law with Joel Zemel

Tue. December 4 at 7 pm
Historian Joel Zemel, author of Scapegoat and Betrayal of Trust discusses the civil and criminal legal proceedings which followed the 1917 Halifax Explosion. These proceedings, which spanned a three-year period, included an inquiry into the causes of the explosion, a preliminary hearing, a hearing before a Grand Jury, a criminal trial with charges of manslaughter and criminal negligence, and appeals to the Supreme Court of Canada and the Judicial Committee of the Privy Council.
Joel Zemel resides and works in Halifax, Nova Scotia. His name is on the list of Professional Researchers for HRM Archives. In 2016, Canada Post Corporation enlisted his services as historical and design consultant for its stamp commemorating the 100th anniversary of the Halifax Explosion.
Art of the Sailor Make a Monkey's Fist!

Sat. December 8 from 10 am to 12 pm
For the holiday season, attend our museum workshop to make a unique Christmas tree decoration! Registration deadline is December 7th. Cost is $10. Contact Jason Climie at 424-6272 ext. 3, or jason.climie@novascotia.ca. More Arts of the Sailor events are coming soon!
Bounty: The Greatest Sea Story of Them All by Geoff D'Eon

Tues. December 11 at 7 pm
This is the story of two thrilling generations of Bounty. First, the original eighteenth century British Naval Transport ship, on which the most infamous mutiny in British naval history played out. Pulling together details from various contemporary accounts of these events author and filmmaker Geoff D'Eon tells the tale of a harsh leader cast out to sea who miraculously finds his way back to England.
Then comes the glorious twentieth century Hollywood recreation of Bounty from Lunenburg, Nova Scotia. Her crew spend delightful weeks in the South Pacific. Years later, Bounty fights for survival as her captain sails her straight into violent Hurricane Sandy. A dramatic rescue effort saves the crew, but the ship, the captain and one young crew member are lost.
Spanning four centuries, this is a story of romance, risk, exotic travel, cruelty, lust, loyalty, jealousy, misadventure, hubris, heroism and death. Fully illustrated with paintings, photographs and artifacts, this book tells one of the greatest sea stories of them all.
This evening of seafaring adventure is co-hosted by Formac Publishing.
Celebration at Sea

Sat. December 15 from 1 pm to 4 pm
The Maritime Museum of the Atlantic shares its Maritime winter traditions and crafts with our visitors to enjoy the season!
Join us in making mini-nautical wreath ornaments, mini-cork sailboats and cinnamon stick reindeer ornaments. During your visit, all are welcome to seek and find holiday heritage facts throughout our museum, admire the whimsy of ship greeting cards from time's past and enjoy festive National Film Board flicks in the museum's Warehouse Theatre.*
From our wonderful comic neighbours across the street, Strange Adventures will be on site to help you create crafty comic cards! Thanks to JJ Steeves and Addison Johnston and Calum for helping out!
There's still time to bring in a donation for our annual Mission to Seafarers Shoebox Campaign, as it wraps up on December 16. For this charity collection, mariners from all over the world who find themselves at a Halifax port during the holidays will receive personal items to make their stay more warm and comfortable. , We are requesting donations of toiletry items and are in particular need of deodorant, shaving cream, shampoo and soap. Thanks for sharing!
*All activities are included with museum admission. Crafts subject to change without notice.
Ross Farm Museum
Christmas in the Country Sat. December 8 and Sun. December 9
As part of the New Ross Christmas Festival staff at Ross Farm Museum has put together a great program for your enjoyment. Step back in time to experience Christmas in the Country. At Rose Bank Cottage sample traditional dishes from the period such as plum pudding, sugar cookies & warm spiced cider while you enjoy some of your favorite Christmas carols. There will be craft activities in the schoolhouse and farm workshop. Weather permitting there will be horse-drawn rides.
On Sunday, Dec 9th from 10 am to 3 pm there will be a craft fair in the Learning Centre
Fundy Geological Museum
The Fundy Geological Museum displays an ancient world and some of the oldest dinosaur bones in Canada. Meet some of the ancient creatures that lived here millions of years ago: the world's first reptiles, early dinosaurs, giant dragonflies, an ancestor of frogs and a sow-bug-like creature as long as a baseball bat. So many great fossils!
Explore mineral treasures of Nova Scotia exposed when the great Fundy tides washed away the sea cliffs. See a collection of beautiful amethyst and agate gem stones.
Museum of Industry
Holiday at the Museum – Free admission Sat. December 8 from 9am to 5 pm
A seasonally-inspired activity day:
Tiny Tinsel Town – enter our wonderful wonderland to see our wintry scenes – 9:00 – 5:00
Storytime with Santa – 11:00 – 12:30
Help decorate our Kids' Train or make an ornament for home – 10:30 – 4:00
Christmas sale in the gift shop – 20% off Dec. 3 – 14th.
Explore the pop-up shop of local artisans
Bring a wrapped toy for NS North Nova Jeep Club Toy Drive (outside – until the Jeep is full)
Meet Bubba and other St. John Ambulance therapy dogs who will be paying us a special, gentle visit
The Pictou County United Way's gingerbread house fundraiser also will be happening here that day. The fee for this will be collected by the United Way and pre-registration is required. Contact them at 902-755-1754 or info@pictoucountyunitedway.ca
Firefighters' Museum of Nova Scotia
Visit the Firefighters' Museum in Yarmouth to discover the history of firefighting in this province.
Imagine the clang of the fire bell, the smell of smoke and the feel of hot steam as firefighters of the past raced to save burning homes in communities across Nova Scotia.
See the types of fire engines used from the 1800s to the 1930s. Marvel at antique hand-drawn and operated engines such as Canada's oldest horse-drawn steam engine, an 1863 Amoskeag Steamer. Take the wheel of a 1933 Chev Bickle pumper and see collections of antique toy fire engines, shoulder crests, patches and badges from fire departments around the world.