Weekly Drawing Studies
The Nova Scotia Museum is a participating sponsor of the 2019 Big Draw, an international festival devoted to promoting the value of drawing for creativity and wellness. A new exhibit Drawn to Life: Understanding The World Through Drawing is on display until November 3rd at the Museum of Natural History in Halifax. The exhibit features artifacts and specimens of animals, maps, bones, plants, and archaeology maps, that demonstrate how drawing is used to help us understand our world. You are also invited and encouraged to draw at the museum. Bring your sketchbook or use the drawing sheets and boards provided. You can even display your drawings in the exhibit or online using the tag #NSMdraw.
Weekly #NSMdraw
As a special activity for The Big Draw, the exhibit also includes a special display of specimens and artifacts that will change every week. These items are selected specifically for drawing and historic interest. For only one week these items will be displayed for drawing. The display case will also show drawings the Museum Sketchers group also completed that week. Come on in and draw with us!
Week 1 - Sea Monsters!
For the first week of the exhibit there is a display of specimens related to cephalopods from the Museum's collection. You can see a squid in a bottle, a model of fossil cephalopod, and even a 200 million year old ammonite that was acquired in 1862. These are just some of the special items featured in the first Weekly Drawing Case. If you visit the museum this week you can also try drawing these specimens, and share on social media with #NSMdraw.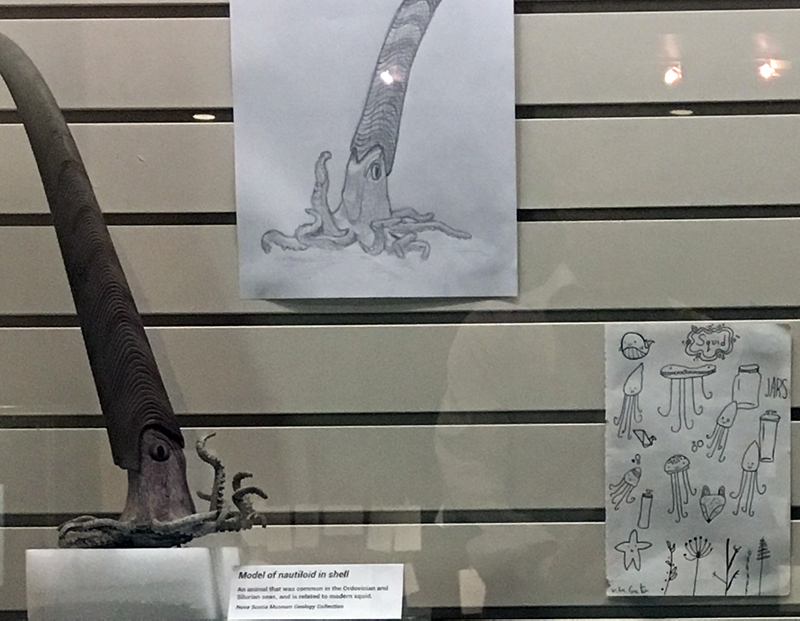 One of the specimens now on display is a 200 million year old ammonite that was collected by Dr. David Honeyman almost 160 years ago!
Ammonites were spiral shelled marine animals that lived during the age of dinosaurs. Ammonites are now extinct, although modern day octopus, squid and cuttlefish are their close cousins. Like these cephalopods, ammonites had a body with many tentacle arms that surrounded their mouths and used jet propulsion to move through the water.
This particular ammonite fossil was acquired by Dr. David Honeyman when he was in England representing Nova Scotia at the 1862 International Exhibition. The fossil is from Lyme Regis and may well have been collected several years before by Mary Anning herself (She sells sea shells). The specimen was brought back to Nova Scotia by David Honeyman to act as a sample within a collection of fossils for comparison to other discoveries being made in Nova Scotia. This specific ammonite, cut and polished to show the inside chambers, has been part of the Nova Scotia Museum collection since 1868.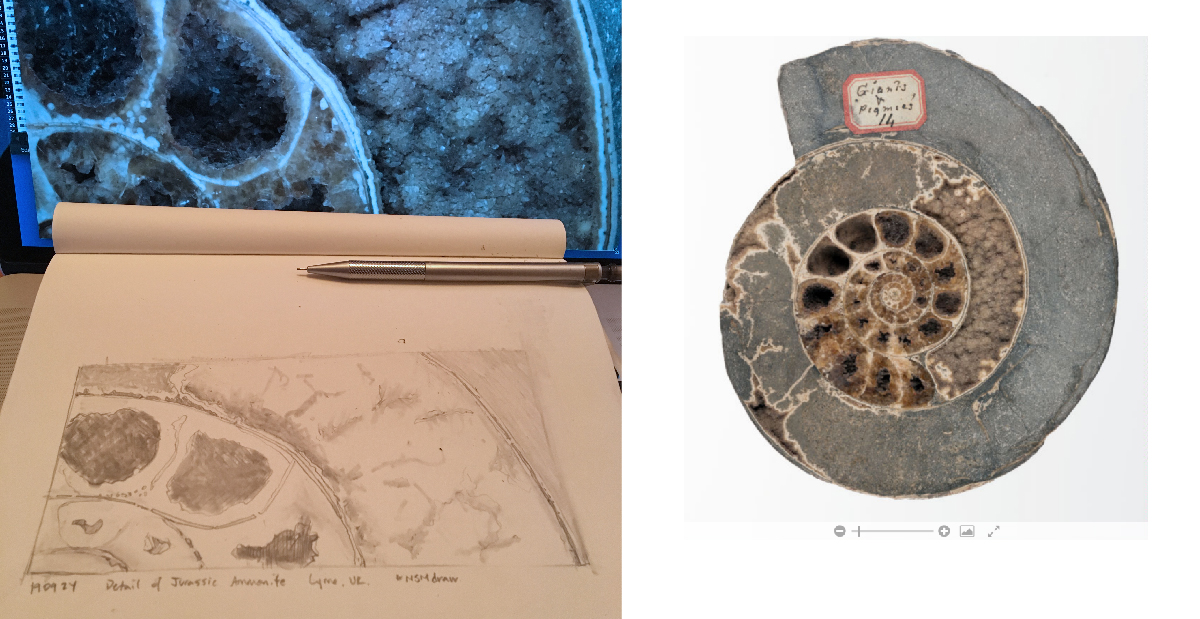 You can also examine this specimen in detail - Click Here to zoom in and explore this specimen.
Then select a view that interests you, make a sketch, and share your image with #NSMdraw. 
Week 2 - Cod Head
For the second week of drawing - we have made available the Cod Head skull that was prepared by Robert Morrow and displayed at the 1883 Fisheries Exhibition. This is skull is from a giant Cod fish!  The specimen was so impressive it won a diploma award at the 1883 Exhibition.
Draw this specimen from an online exhibit where you can zoom into to see more details or explore the 360-view feature and spin the specimen to get a different vantage point. 
Draw a sketch of the specimen, then share on social media with #NSMdraw.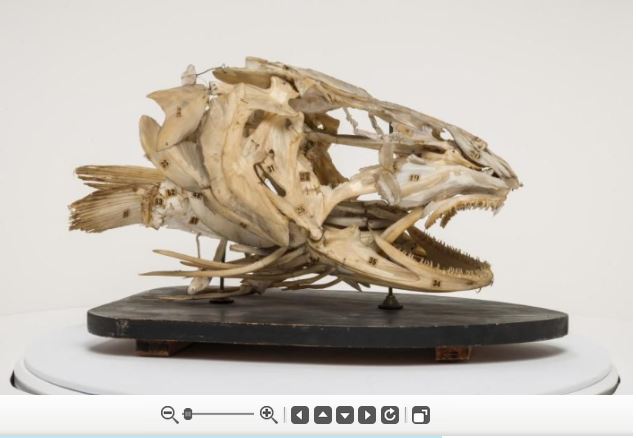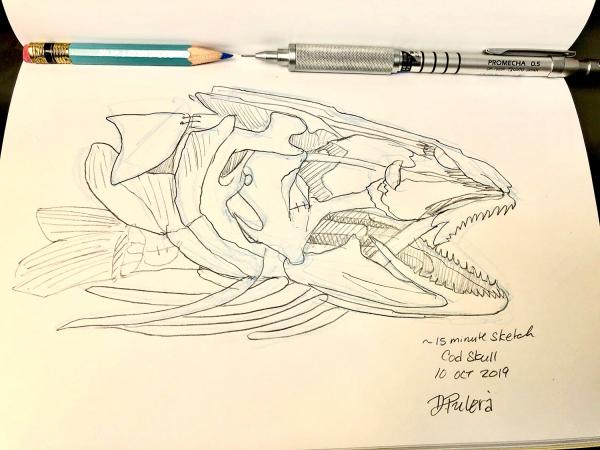 Drawing by Dino Pulerà - on Twitter @dpulera