Numbering Fish Fossils from the Carboniferous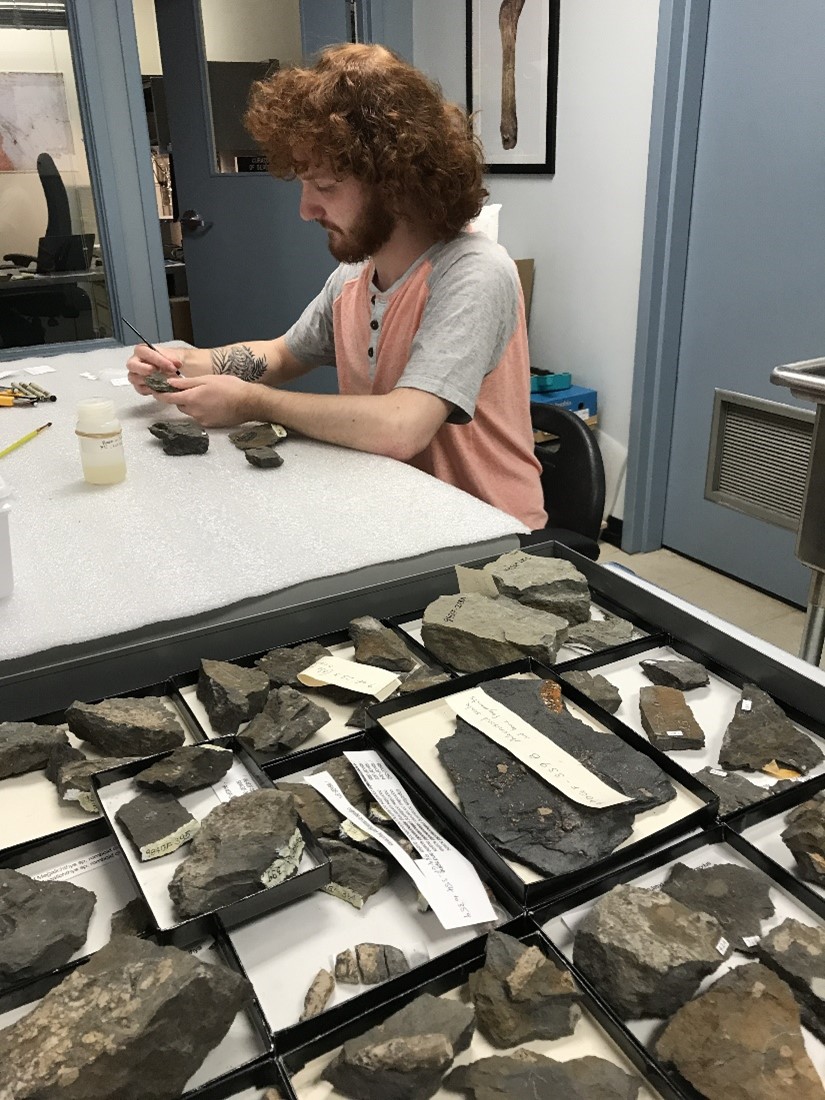 Robbie Hussey, our new Co-Op student from Cape Breton University has been applying new numbered labels on various fish fossils and coprolites that were found in Lingan by Dr. Erwin Zodrow in 1984.
The fish fossils have been in storage since they were found, and the labeling was deteriorating. Robbie was gluing new labels on the fossils with B72 in acetone. As the acetone evaporates the B72 stays as an adhesive and can last indefinitely until acetone or another solvent is used to dissolve it.
The fossils include scales of Strepsodus, a genus of rhizodont lobe-finned fish and teeth from Megalichthys, another genus of lobe-finned fish. As well as similar fossils from the super-order Xenacanthid, and the family Paleoniscidae. The coprolites are fossilized feces likely from these fishes.
The fish fossils were collected from the Lower Carboniferous South Bar Formation and are an estimated 310 million years old.
Erwin Zodrow was a prominent and productive palaeontologist at Cape Breton University. He was awarded the Atlantic Geoscience Society – Gesner Award in 2021. Dr. Zodrow passed away in December of 2022. Robbie's work this summer will be to help inventory and document Dr. Zodrow's fossil collection, including many that are at the Cape Breton Fossil Centre. Sydney Mines Heritage Museum & Cape Breton Fossil Centre | Tourism Nova Scotia, Canada
Note: Fossils are protected in Nova Scotia. Researchers who wish to collect fossils need to apply for a Special Places Heritage Research Permit. Palaeontology Permits and Guidelines | Communities, Culture, Tourism and Heritage (novascotia.ca)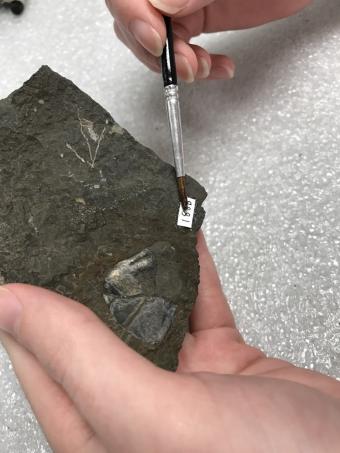 Robbie applying the B27 on a Megalichthys sp. scale.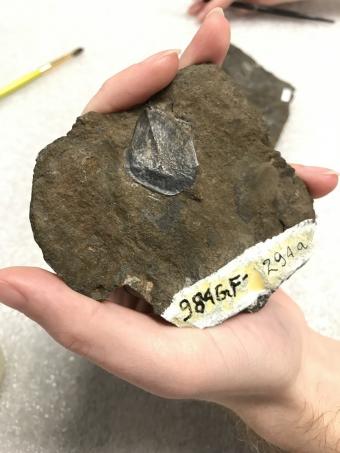 An opercular plate from Sagenodus, a genus of lungfish. It was numbered 984GF-294a with white paint by Zodrow.