NSM Currents - September 2020

Letter from the Director
This September issue of NSM Currents marks my first since becoming Director of the Nova Scotia Museum earlier this year. Since our last edition (in January 2020), so much has changed in our world. Like everyone, the NSM has spent the last 6 months dealing with pressures resulting from the COVID-19 Global Pandemic, and I am continually in awe of the resilience and ingenuity of our museum staff in handling an event that has impacted nearly every aspect of our operations.
The theme of this newsletter is Diversity and Inclusion, drawn from pillar 4 of the Culture Action Plan and a theme that is top of mind for many of us. Our department has put a number of initiatives in place to help move us towards a workforce that is more diverse, accessible, equitable and inclusive. We have featured the All Together Plan in this issue, but I encourage you to also review the Count Us In action plan, and the resources available via the provincial Accessibility Directorate. These documents provide excellent insights and guidelines for working towards our goals of diversity and inclusion.
Principles of Diversity and Inclusion are core to the work of museums, and we need to embed these values into our work. It is critical for our relevancy and sustainability and is a driver for innovation and creativity. I'm proud of the initiatives highlighted in this issue of our Currents newsletter but recognize that there is much more work to be done. It is the responsibility of everyone in all areas of the NSM to review and confront their own unconscious biases, continue to commit to learning and reflect on what we can do to further diversity and inclusion in our museum practice.
I wish everyone a productive fall season, and want to acknowledge and thank all of you for your hard work in what has been a challenging start to 2020.
Laura Bennett, Director, Nova Scotia Museum
---
Culture Action Plan Update - Theme 4: Advance Cultural Diversity
All Together - An Action Plan for Diversity and Inclusion in the Public Service

Supporting diversity in the workplace is an important priority within the public service. Building on the 2014 report, Raising the Bar, the PSC has created a new strategy while updating the policy to include new standards of evaluation. Based on stakeholder consultations, the new strategy focuses on four main objectives - senior leader accountability, leadership development, barrier identification and solutions, and measurement of progress. The new priorities aim at creating accountability among leadership to provide opportunities for under-represented groups, create a workplace in which everyone feels comfortable, and to confidently measure the success of the efforts. This plan is the next step in creating a public service that diversity and inclusion are an embedded value in our organization.

Ross Farm - Cultural Diversity in Agriculture

Before the effects of COVID began, efforts were underway to take Ross Farm, as Nova Scotia's agricultural museum, and connect messages from the Gaelic, Acadian, Mi'kmaw and Black Nova Scotian historical experiences from the point of view of agriculture - resources, techniques and cultural influences. One example of how this might be interpreted is by producing a large display of soil samples from Highland Village, Le Village Acadien, Ross Farm and the Black Loyalists Heritage Centre - then to look at how they worked with that soil to change use it for farming. Conversations on this project are still in the early stages - but the point is to position agriculture as culture and look at how it developed differently within some Nova Scotian cultures. Once they get through the initial re-organization phases due to COVID, they plan to get back to work on this exciting project with their cultural community partners.
Museum Makers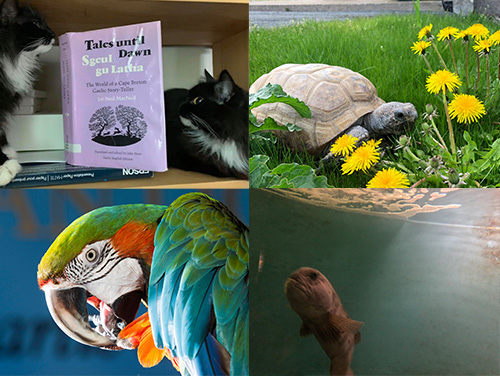 Featured Team: Animal Care
While most of us have been stuck working from home over the past months, there has been a dedicated group of staff that kept going into work. Several of our sites are home to an assortment of animals that need regular attention to stay healthy and happy. Staff at the following sites made sure that happened:

Maritime Museum of the Atlantic

Merlin the 18 year-old rainbow macaw and mascot of the MMA has been well cared for by his primary care-giver and "Ma", Johanna Kristjansson, along with several other visitor services staff. Together, they have ensured that Merlin is staying healthy and stimulated. He has also been maintaining his interpretation duties through weekly online "Squawk Talks".

Highland Village

Although they haven't had any highland cattle to care for, staff at the Highland Village have two very important staff members who need regular visits. Mary Margaret and Annie Katherine are the feline mainstays at the village and Rodney Chiasson has made sure they have been well loved.

Fisheries Museum of the Atlantic

The sea life at the Fisheries Museum need around the clock monitoring of the aquariums many pumps, filters and tanks that keep them safe. Ryan Tanner has been there to make sure all is well for their fish and crustaceans.

Museum of Natural History

Live animals are an important part of the displays at the Museum of Natural History. Heather Mackinnon-Ramshaw, along with the rest of the interpretation staff, have been hard at work caring for an assortment of amphibians, reptiles, insects, marine life, and Gus the Gopher tortoise, of course.

Ross Farm

As the Nova Scotia Museum's agricultural museum, Ross Farm certainly have plenty of animals that require constant care. Cows, sheep, and chickens are some of the staff members who were visited daily as their enclosures were kept in top shape and their needs were attended to.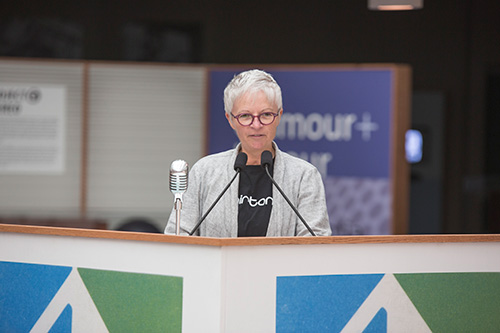 Featured Staff: Debra McNabb
Debra McNabb, director of the Museum of Industry (MOI), has worked for the Nova Scotia Museum for over 31 years. During that time, she has been in six separate roles and has been an integral part of the development of collections policy, exhibits, programming, and community partnerships. Even as director, she has always been involved in every aspect of the museum's operations, helping to develop new programs, managing collections, and taking part in outreach. Her engagement work with the Westray Family Group and Pictou County Safe Harbour have helped support vulnerable members of her community when they needed it most. After a rich and varied career with the Nova Scotia Museum, Debra is set to retire on July 1st. We all join together in sending best wishes and sincere thanks as she moves on to this next chapter!
Museum Partnerships
Some recent partnerships around the NSM:
The Fisheries Museum of the Atlantic has several partnerships to share

Occupational Health & Safety - a funding partner for the Safety at Sea exhibit and co-promoter for the
Without Walls - After being approached to help, heritage interpreter Stefan Porter worked with the organization Without Walls to conduct a 30-minute presentation about the Bluenose for isolated seniors in Edmonton over the phone.
Following up on the work with Without Walls, they have plans to partner with the Canadian National Institute for the Blind to do another phone-in presentation about the Bluenose.

Fundy Geological Museum is working to support the community during an unprecedented season by partnering with local non-profits such as Parrsboro Creative. Seasonal museum staff are spending time helping out partner organizations with various administrative and creative tasks.
Working with staff at Camp Hill Veterans Hospital, Lisa Bower created an outreach pilot program using items from the collection to help stimulate discussion and reflection for seniors.
Curators Katie Cottreau-Robins & Vanessa Smith worked with Saint Mary's University on a virtual heritage fair exhibit about Africville.
Who to Grab Coffee With
Museum staff always have great stories. If you have a chance, grab a (virtual) coffee with these folks to find out more about what they have been doing.
The Maritime Museum's Roger Marsters, Gerry Lunn, Richard McMichael, Jenny Nodelman, and Daniel Wendt all worked on a refresh of the Halifax Harbour Explosion exhibit, "Explosion in The Narrows". The refreshed exhibit highlights the experiences of Black, Indigenous, recent migrant, and other people and communities previously unrepresented in public interpretation of this event.
ICI designer David Carter recently embarked on a new challenge, starting a master's program in creative non-fiction writing. David will be working with his mentor Harry Thurston (poet, journalist & author) on draft chapters for his book on Nova Scotia's ice hockey history.
Raise a Glass!
Congratulations are extended to:
Penny Harvey (NSM Coordinator, Administration) on celebrating her 30-year anniversary working at the Nova Scotia Museum
New Museum Appointments:
Emma Lang - Assitant Curator - Fisheries Museum of the Atlantic
Laura Bennett - Director, Nova Scotia Museum
Joni Thomas - Administrative Assistant, ICI
Haley Cox - Administrative Clerk, Maritime Museum of the Atlantic
Marlee Leslie - Marketing Coordinator, Fundy Geological Museum
Anne Kendrick - Administrative Clerk, Museum of Natural History
Graham Caswell - Interpretation Researcher, ICI
Retirements and Departures:
Deb McNabb - Director, Museum of Industry
John Kemp - Manager, Museum of Natural History
Scott Ross - Museum Technician, Museum of Industry
Does your NSM site have a staff announcement? Won an award? Let us know so we can include it in the next edition of NSM Currents. NovaScotiaMuseum@novascotia.ca
In Memorium:
It is with sadness we mark the following losses:
The Nova Scotia Museum's Frank Hickey, a consistently pleasant presence at the Summer Street office. He loved his time working for CCH and spending time with his colleagues.
Ian McLaren was a professor, marine biologist, ornithologist and NSM associate researcher. He was integral in the creation of the Sable Island Preservation Trust and Nova Scotia Nature Trust. His personal and academic accomplishments are too long to list and his role in advancing conservation in Nova Scotia leaves a lasting legacy.
Ursula Thomas spent many years as a research associate with the NSM, in addition to her work as a geology professor at Saint Mary's University and a longtime member of the Nova Scotia Field Naturalists.
---
Behind-the-Scenes
Image Courtesy of

The Sea in Her Blood, a special exhibit hosted by the Maritime Museum of the Atlantic, featured 17 women from across their province and their relationships with the ocean. Each woman was showcased by sharing their stories and ideas at the museum and online. Images like this one, were shared on social media along with quotes from the subjects themselves.

This image shows Cheryl Maloney, who spoke about the importance of water and maintaining the natural balance that exists in watersheds. As a Mi'kmaw woman and daughter of a great chief, she shared an important perspective on an issue that affects everyone.

"The connection to treaty, to our lands, to our food sources is what connects us still to the water. When we fight to fish, we fight to live." - Cheryl Maloney

Digging Deeper: New Research

As part of her graduate thesis, Lisa Bower will be taking a closer look at examples of Nova Scotian textiles, including this piece. This needlework picture (2003.6.100), a modern interpretation of the embroidery sampler, features motifs selected at the time (1940s) to be emblematic of Nova Scotia. It was designed and stitched by English born embroiderer, Bessie Murray, nearly a decade before she created the province's tartan.

It is dated 1944, when the provincial Handcrafts Division was a part of the Dept. of Trade and Industry. It was Nova Scotia's submission for the 1945 Canadian Handicraft Guild's travelling needlework exhibit. In May, the exhibit came to Halifax, but the exhibit closed early due to the VE Day post-war riots. It was moved to Montreal, and likely has not been on public display since those turbulent days.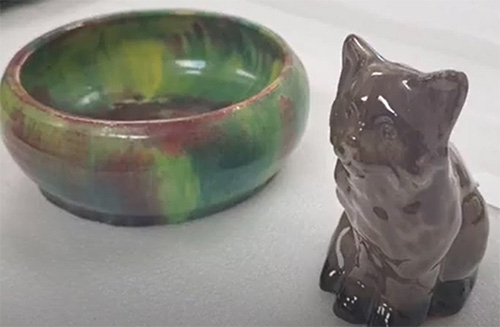 New Acquisition
Shubenacadie Indian Residential School Ceramics Project - 2019
Ceramic production by students at the Shubenacadie Indian Residential School was to a great degree influenced by Alice Mary Hagen (nee Egan), born in Halifax in 1872. She was an alumna of Mount Saint Vincent Academy (now University) where she first studied art and later taught pottery to many nuns of the Sisters of Charity.
The Shubenacadie Residential School, like all residential schools at the time, was run by a religious order, in this case the Sisters of Charity, and funded by Department of Indian Affairs. The school was in operation between 1923 and 1967. Almost all the children at the school were Mi'kmaq from Atlantic Canada. Students received instruction in basic carpentry, farming, housekeeping, elementary reading, writing and math. As part of that training, students at the school were instructed in the making of pottery, which was later sold to help subsidize the school's costs. The children did not receive any money for their pieces.
Hot off the Press
The museum is always finding new ways to share its information beyond exhibits and programs, such as these new resources.
Strategic Corner
As we transition from work at home back into our office spaces, there are a number of policies in place to keep each other safe as we deal with the presence of Covid-19. When returning to your space, keep the following guidelines in mind:
Maintain a 2m space between workstations
Create physical barriers between workstations
Avoid face-to-face interactions through email, phone calls, and Teams meetings, if possible
Ensure easy access to soap, water, and hand sanitizer
Remove shared items from spaces (magazines, newspapers, pens, etc.)
Limit exchange of physical materials (paperwork, mail, whiteboard markers etc.) when possible
Don't eat at your workstation
If possible and appropriate, open windows to increase air flow
---
Next Time on NSM Currents:
Exploring Culture Action Plan Theme 5: Excellence in Cultural Stewardship
---
Subscribe
To subscribe to this list, send a blank email to NovaScotiaMuseum@novascotia.ca with the subject line subscribe.