My Favorite Things: The Titanic Collection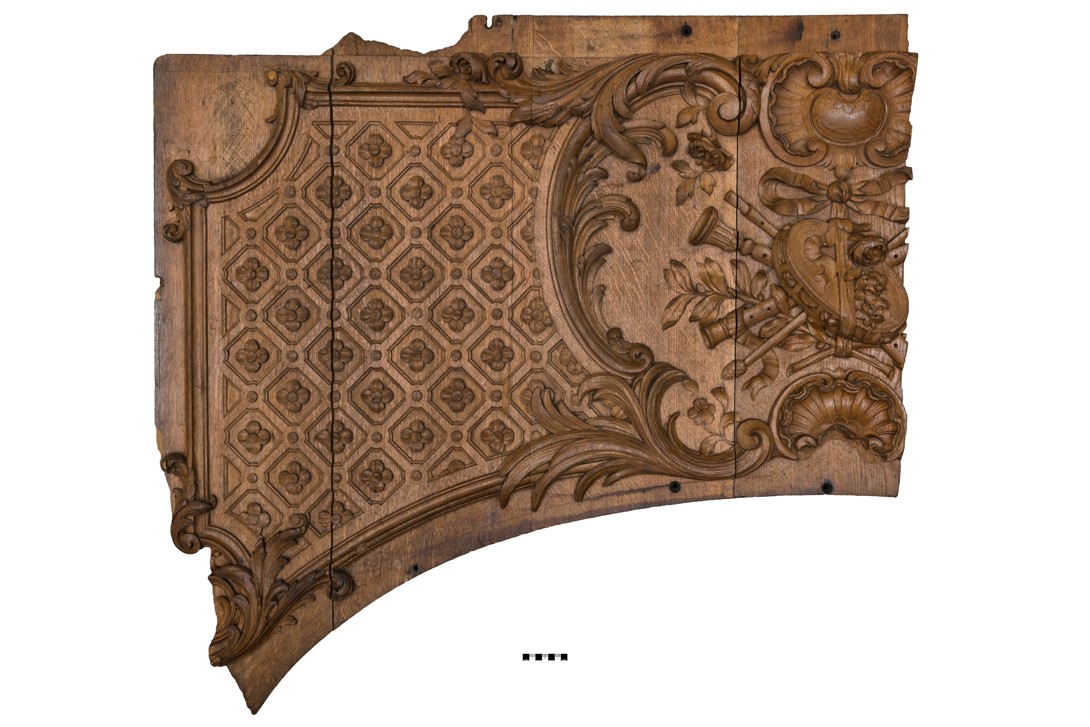 First class lounge panel from RMS Titanic, M2004.50.108
"Why on earth does the Maritime Museum of the Atlantic in Halifax, Nova Scotia, Canada have a Titanic gallery?" That is a very common question at my workplace. The truth is, not only do we have a Titanic collection, but we actually have the largest wooden object collection in the world. So, how on earth did this come to be?
Well, it comes down to location. Since Halifax was the closest port of significant size in relation to where Titanic went down, our city was involved in working the disaster. This included Halifax cable ships MacKay-Bennett and Minia, along with Canadian government ship Montmagny, leaving our port for the disaster site to find more bodies than they could have ever imagined.
MacKay-Bennett, first on the scene, recovered 306 victims. Minia recovered 17 and Montmagny found an additional 4 bodies. Most of these victims were brought back to land, but unfortunately not all. Since the magnitude of what was found at the wreck site was so overwhelming, they ran out of embalming supplies, despite having brought an enormous amount. On top of that, since some victims were so badly injured, they could not embalm them even if they had the supplies.
In the end, some had to be buried at sea. Services were performed by ministers brought on the voyages. For those who were brought back to land, the people of Halifax were there to lovingly receive them. Of the 209 victims brought back, 59 were transported home for burial, while 150 were buried in our city. Some have been identified, some remain unidentified. All are remembered, as people from all around the world come to pay their respects, even today.
Another place people pay their respects, and connect to that moment in time, is at our museum. Especially powerful, are the wooden artifacts. As you can imagine, when the men from Halifax were working the disaster, there was a lot of debris floating in the water at the site of the wreck. The men collected these pieces. This was not a new idea, but rather an old tradition. Collecting and holding on to pieces from a shipwreck has long been a way of remembering and paying respect to the people who died in the tragedy. Over a hundred years after that tragic moment in 1912, people are still using these pieces to remember the victims, and feel a sense of connection to them.
Grand Staircase from Titanic's sister ship RMS Olympic, Library of Congress  LC-USZ62-26812
One of my personal favourites is the archway from Titanic's first-class lounge. More than an archway, it's a piece of art. This exquisitely beautiful piece includes numerous hand-carved flowers, all surrounding the musical instruments carved into the archway's center. This design wasn't random, but rather, well thought out, for there would have been a lot of live musical performances in the first-class lounge. When I look at this artifact, I often wonder what passengers it would have seen, what conversations it would have heard, and what stories it would have to tell. How many Titanic passengers admired it, as I do? If only it could speak. In a way though, it does speak to us, and connect us to that moment in time, and to the people who lost their lives on board RMS Titanic.
Julie Lynn Jornitz, Visitor Experience Team, Maritime Museum of the Atlantic