My Favorite Things: Statue of Captain Farquhar
James Augustus Farquhar's story carries through several galleries in our museum. His memorial statue stands between our Days of Sail and Age of Steam galleries, but his story does not begin there.
In 1849, his parents moved to Sable Island to work at the life-saving station. An exhibit on the Sable Island shipwrecks can be found in our Small Craft gallery.  Over the years, more than 250 known shipwrecks occurred on the sands of Sable Island, so in 1801, Nova Scotia established a pair of stations on the island to save the lives and salvage the cargos of those wrecked.
Farquhar grew up on the island, learning about shipwrecks and the dangerous work of salvage. As a teenager, he struck out from the island, becoming a wreck-diver for a salvage vessel.  A hard-helmet diving suit much like those he wore, is on display in our Shipwreck Treasures gallery.
Despite the dangerous work, Farquhar worked and financially saved successfully, until he was able to make captain of a salvage vessel and buy his own ship to start his own salvage company.
His success continued, and he earned the nickname "Lucky" Farquhar among others in the salvage business. After a few years, he decided to "cut out the middle-man" in his salvage work; he began merchant shipping of goods, aiming to avoid the disastrous wrecks which made salvage a necessity.
His cargo vessels - despite occasional near-accidents - were successful as well. Early in the 1900s, he made the transition from sail to steam, acquiring new vessels, training new crew, and training himself to continue to captain these motorized vessels, including the tugboat Stella Maris, who would play a tragic role during the Halifax Harbour Explosion.
In 1906, Farquhar edged toward retirement, vacationing in Southern Europe and purchasing a yacht to tour around the world with his wife Jesse. It was in Europe he noticed the life-sized and dramatic monument statues in Catholic cemeteries, and had one commissioned.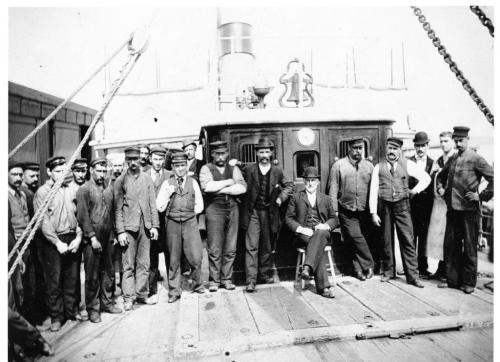 Captain Farquhar (seated) MP400.45.2
​
Farquhar and Jesse traveled often over their remaining years, but always returned to Halifax, where their business was headquartered. James Augustus "Lucky" Farquhar died in 1930, aged 87 years. He was buried in Camp Hill cemetery, but the monument statue was declined. 
The statue waited in a warehouse for many years before being rediscovered and donated to the Nova Scotia Museum. Now, it stands in the Maritime Museum of the Atlantic, between the Days of Sail and Age of Steam galleries, but his story reaches throughout the museum.
-Andrew Aulenback, Visitor Experience Team, Maritime Museum of the Atlantic