My Favorite Things: RMS Aquitania – Her story and her ship's wheel
I've always regarded RMS Aquitania as the greatest ocean liner ever built for the North Atlantic Ocean. There are a number of reasons for this and I hope that this brief history of this remarkable ship will give you an appreciation of what made her so special.
Aquitania was launched at John Brown's Shipyard on the banks of the Clyde River in Scotland and made her maiden voyage on May 30th, 1914 just as the world was about to be plunged into the "war to end all wars."  She was immediately pressed into service as a troop transport and hospital ship and took part in Allied operations in the Dardanelles. After the War ended, she spent the better part of two years helping to repatriate Commonwealth troops and didn't return to active service on the North Atlantic Ocean until 1920.
Her post-war career saw her become one of the best-loved ships on the North Atlantic Ocean. As part of the Cunard Line's "Big Three" along with RMS Mauretania and RMS Berengaria, she maintained her status as one of the most luxurious vessels afloat and was known simply as "The Ship Beautiful." Her gorgeous and stately interiors still resembled those of a first-class hotel and stood in stark contrast to the Art Deco stylings of her French rivals.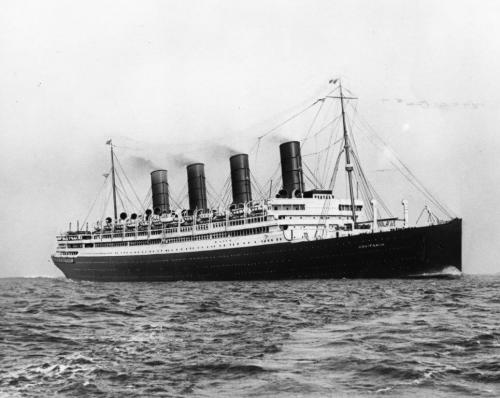 The Ship Beautiful
While much newer vessels were sold for scrap during the Great Depression, Cunard continued to use Aquitania for "booze cruises" during prohibition and she still maintained a profit for the company each year. Refits to the ship also meant that Cunard decided to keep her in service as a running mate for their new liner RMS Queen Mary.
In September of 1939, the world was once again at war and Aquitania gamely returned to action just as she had done between 1914 and 1918. She was deployed throughout the world and when all was said and done, she had transported around 400,000 troops and logged over 500,000 miles during the two wars. She was also the only one of the great liners of her era to serve in both wars.
In 1948 Aquitania returned to the North Atlantic Ocean and once again became a frequent visitor to Halifax, most notably bringing War Brides, their children and other immigrants to Pier 21. A number of these "war brides" still live in Halifax and like many of her passengers, still regard Aquitania with great fondness. Tired, leaky and with most of her luxurious interiors gone, she was now the "Grand Old Lady of the North Atlantic" and her end was near.
Aquitania was sold for scrap in 1950 but left behind an incredible legacy. In 450 round trips across the Atlantic, she logged over 3 million miles and carried 1.2 million passengers. She had a 36-year career, almost twice the average length of service for an ocean liner. As noted, she was the only one of the great liners to serve in both world wars and in an era of maritime history driven largely by a sense of nostalgia, she remains a favourite for many liner historians and former passengers alike.
First Class Drawing Room
Here at the Maritime Museum of the Atlantic, we have a number of artifacts associated with the ship. Taking pride of place is her wheel, which was donated to the City of Halifax by the Cunard Line in 1950. For me, this is our most important artifact, representing as it does, the finest ship ever built for the North Atlantic Ocean. In our collection, we have postcards, photos, paintings, menus and even a tea service from the ship but the wheel is the heart and soul of any vessel. To have the wheel of such a ship, one with a deep and lasting connection to Halifax is something special and something to celebrate.
-Richard MacMichael, Coordinator of Visitor Services and Interpretive Programming, Maritime Museum of the Atlantic.