My Favorite Things: Oilskins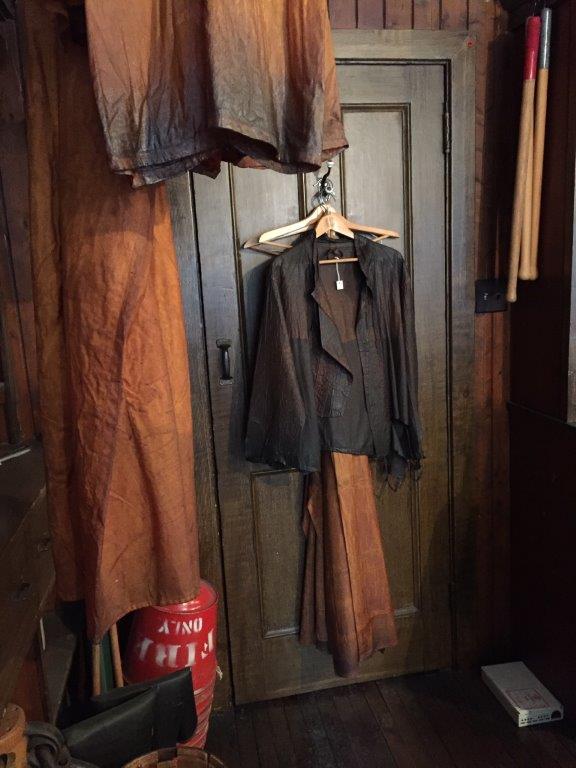 The oilskins in our Robertson Store ship chandlery have been an important item of our collection since the museum opened. They represent over 300 years of proud seafaring tradition in Nova Scotia and are a good reminder of our roots.
Waterproof clothing has been in use since the late 1700's and various methods have been used to make them. In early days, they were made of old sailcloth with a thin layer of tar, or cotton duck soaked in linseed oil and/or paint. In 1898 New Zealander Edward Le Roy developed a linseed and wax outfit that was more breathable. Helly Hansen was one of the first successful commercial foul-weather gear makers, producing oilskins, sou'westers and tarpaulin hats in 1877.
Every sailor had to have a set of oilskins to protect them from the weather and these were fairly inexpensive to make. A sailor's wife could easily make a set if she had some fabric and enough linseed oil. This type of wet-weather gear was the only thing available until the 1920s when plastic (PVC) rain gear came onto the market. Even when plastic gear was available, people still used oilskins for many years as they were cheaper and they could make their own.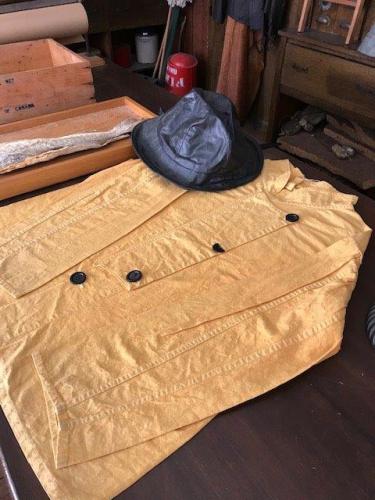 Oilskins were made of cotton duck sewn into a coat and pair of pants. They were then immersed into a vat of boiled linseed oil and soaked for three days, keeping the linseed oil hot. They were then hung to dry and brushed with additional linseed oil until they couldn't absorb any more. The yellow color came from the oil and wax, and if you wanted a black set they would add lamp black (soot) to the oil.
Oilskins were waterproof, but would eventually lose their weatherproofing in spots. Every sailor would have their own pot of linseed oil to touch it up. They were also quite stiff and sticky; you would have to have a nice thick sweater on underneath for comfort. One big drawback was that they were very flammable due to the linseed oil. You could not leave them in piles or enclosed spaces or they might spontaneously combust! To complete your wet-weather gear, you would need a good Sou'wester hat: made out of oiled canvas, it had a special design with a turned up front and a longer brim behind so the rain would just slip right off your back.
These sets of rain gear transformed work onboard vessels and made life a little less unpleasant for the fisherman or laborer. Staying dry is essential to feeling comfortable: it may seem like a small thing, but it played an important role in keeping people working and healthy. Fishing remains a fundamental part of Nova Scotia's economy to this day.
Kelly Anstey, Visitor Experience Team, Maritime Museum of the Atlantic