Historic Photographs from 1883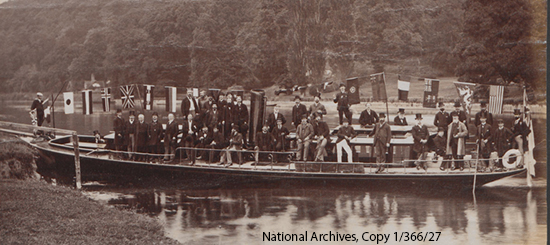 Today, we celebrate a series of historic photographs that were taken at the International Fisheries Exhibition in London on August 31, 1883.
1883 Fisheries Exhibition
During our recent research into Dr. David Honeyman (#FindingHoneyman), I became interested in a description Honeyman provided of a day-trip excursion he participated in while he attended the 1883 Fisheries Exhibition in London. David Honeyman attended the London Great Fisheries Exhibition in 1883 as a representative of the Dominion of Canada. This was a very popular public exhibition, with over 2.5 million visitors, and Honeyman was at the exhibition from May through November of 1883.  While in London, Honeyman attended lectures, discussed exhibits and fisheries science with international delegates, and also participated in several field trips.
In his book Giants and Pigmies (1887), Honeyman gave a detailed account of a day-trip excursion up the Thames by boat to Maidmenham Abbey. Two things grabbed my attention about his description of the trip. First, Honeyman mentioned that on his way to the boat launch he shared a carriage ride from the train station with several people, one of them being Linley Sambourne, the illustrator from the magazine Punch. The second thing that grabbed my attention was that Honeyman described a series of photographs that were taken during one of the stops - at Cliveden House. Honeyman stated:
"Two gentlemen appear and politely request us to arrange ourselves in a group beside our launch. Here we are English, Scotch, Irish, Russian, Austrian, French, German, Dutch, American, Australian, Canadian, Swedish, Norwegian, Chinese and Japanese, &c. Being brought to order, a photographer points towards us his Camera. This over, we embark and make a start — still a hindrance. The photographers having established themselves on the opposite side of the river, politely request that our launch lie across the river, which it nearly spans. Arranged, we are called to order. In an instant the picture is taken. Two beautiful photographs with the lovely scenery up the river, in the background." (Honeyman 1887, p. 58)
At the time that I read this, no one at the Nova Scotia Museum had ever seen these photographs.
So, I wondered.... where might we find a copy?
Photograph on the Thames
While working on some other research, I searched the UK National Archives online catalogue and struck gold!  Among the search results I found a listing for a "Photograph of Fisheries Exhibition Commissioners on bank of Thames at Henley" reference number COPY 1/366/25.  Excited, I set about ordering a copy of the photographs and a couple weeks later recieved digital copies of the images. When I downloaded and opened the file, there sitting among the international delegates was David Honeyman, proudly representing his country.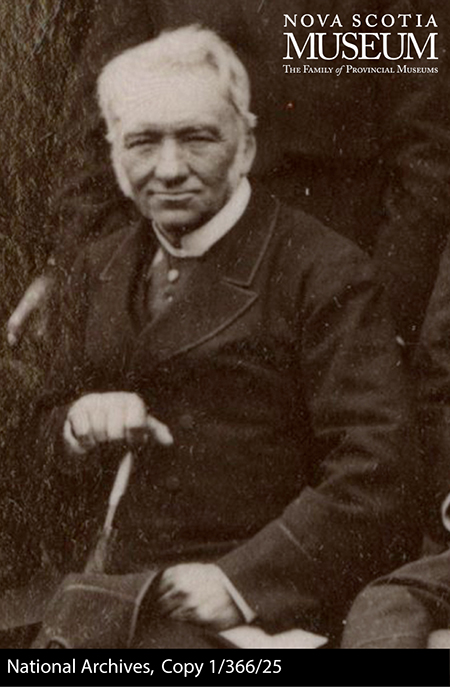 This is now the last known photograph of David Honeyman, who passed away in 1889 just six years after this photograph was taken. The photograph and insights related to the 1883 Exhibition are wonderful results from the Museum's #FindingHoneyman research.
The group photograph is also exciting because it provides a new historical document to examine the significance of the 1883 Exhibition. The image is now being used in an online project to identify the other delegates on the excursion and in the photograph. At the time of writing this blog post, 21 of the 42 delegates have been identified. We can also note that all the delegates are men, something that thankfully would not happen today.
You can explore the image and some of the people identified so far on the "Delegates from 1883 Fisheries Exhibition" webpage.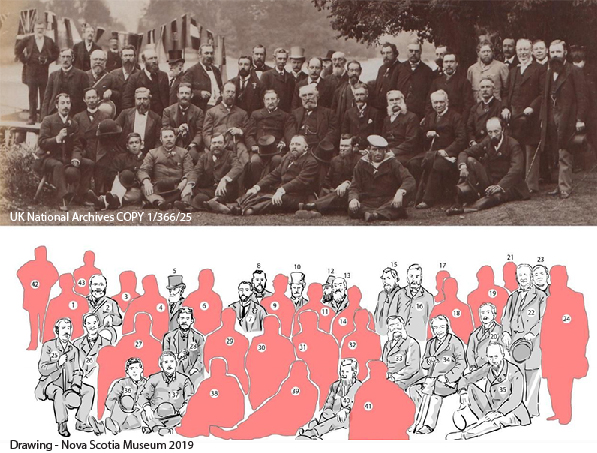 Sambourne Diaries
One of the people already identified in the photograph is Linley Sambourne (#23), the artist that Honeyman mentioned at the beginning of the trip. I was very pleased to learn that Linley Sambourne's house is a popular museum in London at 18 Stafford Terrace, and that Sambourne's diaries have been transcribed and available online.  While looking through the entries for 1883 I saw:
"Friday August 31 - Up early & went to catch launch on river. Met Wendell, Sewell Gardner, D'Arcy etc etc. Good day. Dined at Skindles etc etc. Cliveden House. D'Arcy etc etc. Jardine."   Sambourne 1883.
Sambourne's diary entry matches with David Honeyman's description of the trip up the Thames. With this second historical source, we now can show the photographs taken at Cliveden were taken on August 31, 1883.
Acknowledgments
Although this research is ongoing, it has already brought me into contact with several helpful and supportive researchers around the world. A special thanks to Shirley Nicholson, who originally transcribed the Sambourne diaries now found online and who provided extra comments about the significance of Linley Sambournes work. I've also appreciated connecting with Dr. William Knight, Curator of Fisheries at Ingenium who has published a similar blog post today commemorating this historic photograph and Dr. Jennifer Hubbard at Ryerson who identified several of the delegates.
After so many years, the importance of this historic photograph is being uncovered through use of online resources, international collaboration and social media. You can explore some of the discussions we've had on Twitter at #1883Exhibition - and join in the interesting research to learn more.  What will we discover next?
Article by: Dr. Tim Fedak, Curator of Geology