Fundy Field Notes: A Very Amateur Guide to Rockhounding in Nova Scotia
By Carly Merriam
I am going to start this article by making the disclaimer that I am not a geologist; I am a Bachelor of Arts student at Cape Breton University. Still reading? Yay!!! I started working at the Fundy Geological Museum in the summer of 2017, and this year marks my fourth summer.  I grew up in a very small town in Nova Scotia (so small it is not officially called a town anymore) and I always had an interest in the beaches of my home province. Since starting at the museum four summers ago, I have learned a lot about the common rocks and minerals we find here, where they can be found, and I have learned how to rockhound properly so everyone can enjoy it. Although I am no expert, and will not pretend to be one, I wanted to share what I have learned for anyone else who would consider themselves a very amateur rockhound. Now I will get into why you really clicked on this article - my very amateur guide to rockhounding in Nova Scotia.
General Safety and Things to Know Before You Go: First of all, safety IS cool and makes the rockhounding experience more enjoyable for you and everyone else too. The general 'rule of thumb' is to keep at least one to two school bus lengths away from any cliffs while you are looking for rocks and minerals. The first reason for this is that most cliffs are actively eroding, and you do not want to be standing close when the rocks fall. The second reason to stay away from the cliffs is because the cliffs on the beach are owned by private owners or are protected by the province of Nova Scotia, and chipping away at them can result in a very hefty fine if you do not have the proper permits. Yikes! The next thing to know before you go is the amount of minerals you should collect at one time. We have all been in the situation where we get carried away collecting and the next thing you know every hand, pocket, and bag is full of cool finds, however this is not the most ethical practice. A couple of golden rules to go by is to either take home what you can carry in your hands or pick out your five best finds and put the rest back. Depending on the size of your finds, you can go with either one of these suggestions. These practices ensure we do not take too much from the beach and we leave stuff behind for other rockhounds to find as well. Third, if you are rockhounding on the coasts of the Bay of Fundy, you should probably be aware that it holds the record for the highest tides in the world. So, what I am saying is, PLEASE check the tide times before you go because I promise you, you will not look cool stranded in the ocean even if you are holding a piece of amethyst.
Rockhounding – What to Look for on the Beach: Alright, alright, I am done with the safety stuff. Now for the fun part: what can you find on the beaches? Nova Scotia has many different rocks and minerals that are common to find. But what do they look like? Where can you find them? Well, keep reading to find out…
Quartz – Quartz is the most abundant mineral in the world, and we have plenty of it here in Nova Scotia. It is characterized by its shiny clear to whiteish crystals. It can also look smooth and yellowish in colour if it has been worn down by the tide.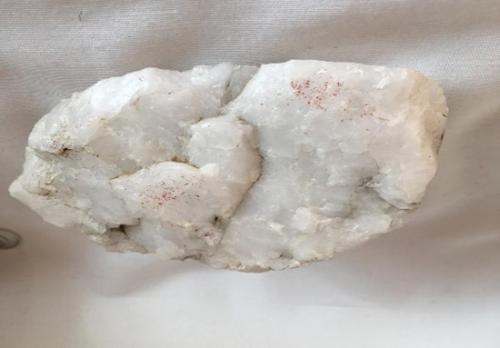 Image Retrieved From: https://i.etsystatic.com/18397882/r/il/d06330/1602946590/il_794xN.1602946590_k730.jpg
Stilbite – Stilbite is Nova Scotia's provincial mineral. It is not very common in the rest of the world, but it is common in N.S. You will know it is stilbite by its light yellow to orangish colouring and its fan-shaped crystals.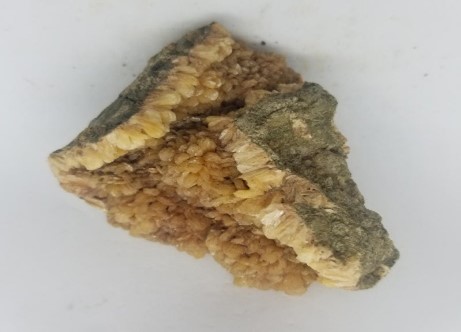 Image Retrieved From: https://www.zemblaminerals.com/sites/default/files/styles/mineral_specimen_medium/public/specimenphotos/2019-11/15542442929604189187594120887859_4.jpg?itok=JTAHRV6C
Chabazite – Chabazite can sometimes be mistaken for stilbite because it is also orangish in colour, but it differs in crystal structure. Chabazite has crystals that are shaped like cubes. Cubes and chabazite both start with 'c', so that is how I remember it.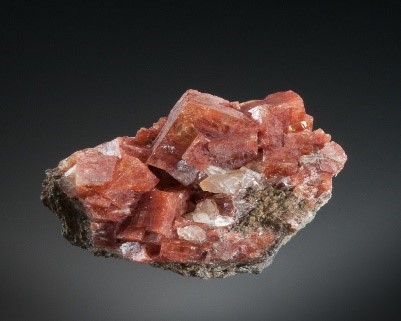 Image Retrieved From: https://www.mcdougallminerals.com/wp-content/uploads/2020/05/chabazite16611844.jpg
Gypsum – Gypsum can be white to peach in colour; it is soft and easy to break. Gypsum's crystal structure looks long and fibrous. Gypsum has many everyday uses such as being made into gyprock and as an additive in toothpaste and Oreo cookies. Yum!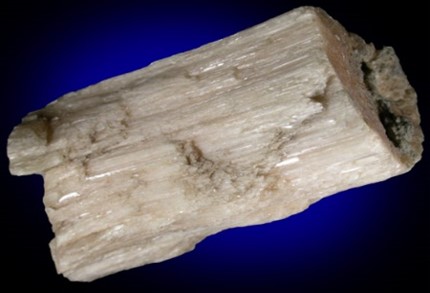 Image Retrieved From: https://th.bing.com/th/id/R21c9cb178457cfd2c9397f748621c7b1?rik=brkFwuHk1S4tmA&riu=http%3a%2f%2fwww.johnbetts-fineminerals.com%2fjhbnyc%2fmineralmuseum%2f53584.jpg&ehk=xJZqV%2fdXq6eKK4WFTGB43WVJB9UiKAbTlyA%2fwNbWlTs%3d&risl=&pid=ImgRaw
Amethyst – Ah, February's birthstone… amethyst is a very distinguishable mineral because of its spiky, purple crystals. Fun fact: Amethyst is just quartz with an iron impurity!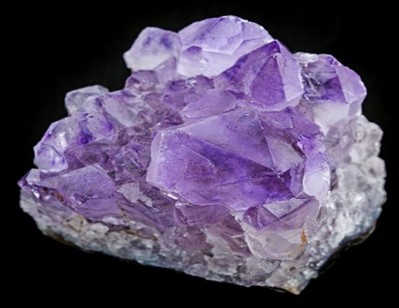 Image Retrieved From :https://i1.wp.com/www.whats-your-sign.com/wp-content/uploads/2018/03/LoveStonesAmethyst.jpg?w=735&ssl=1
Sandstone – Sandstone is pretty self-explanatory: it looks like red sand that has been hardened into rocks, because it is. It is quite breakable, and we have a lot of it here because Nova Scotia used to be a desert and was attached to Morocco. We had arid temperatures, sand dunes and the like. Think about that the next time you are shovelling your driveway!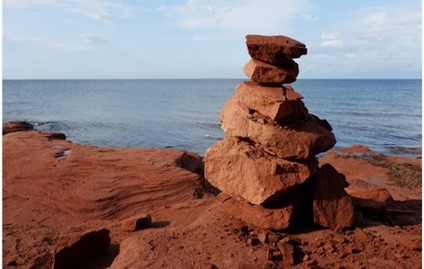 Image Retrieved From: https://2.bp.blogspot.com/-UTik2WHsOCE/WdzoNdVQBMI/AAAAAAAAL60/AUxTOlwlGUomdPPOUUSDoRhTabvvVpwsACLcBGAs/w1200-h630-p-k-no-nu/Cavendish-Rock-Pile-Prince-Edward-Island.jpg
Siltstone – Siltstone is characterized by being grey and smooth. It is hardened mud and is a great place to look for trackways and plant fossils!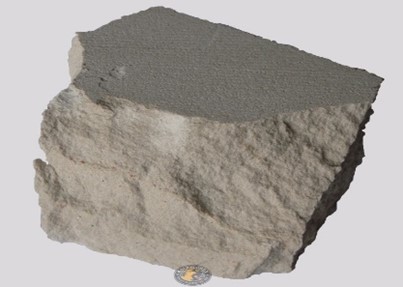 Image Retrieved From: https://www.rockhoundz.com.au/wp-content/uploads/siltstone_feat.jpg
Granite – Granite (yes, like your countertop) is a common type of rock in the southern half of Nova Scotia. All of Peggy's Cove is made up of granite. It is a type of igneous rock that cooled slowly and is most commonly made up of quartz and feldspar.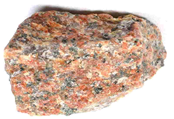 Image Retrieved From: https://th.bing.com/th/id/R4a5b7b8c4c43687fddbc2ff88c938430?rik=JE4IpRemfnXswQ&riu=http%3a%2f%2fwww.geologypage.com%2fwp-content%2fuploads%2f2019%2f05%2fGranite-Rocks-GeologyPage.jpg&ehk=WCQNdgu4OuZ%2bgsD77FbPMLgcbmKrTNAhDCLYup%2fIye4%3d&risl=&pid=ImgRaw
Basalt – Basalt is a 'cool' rock because it is made by cooled lava. It also helps to answer the question of where to look for minerals. As lava cools, the basalt can crack or form air bubbles in the rock. Water fills these spaces and with a little bit of science, minerals can form. So, get yourself a geology map and look for places that are made of basalt, such as Partridge Island, Wasson Bluff, Cape Blomidon, etc.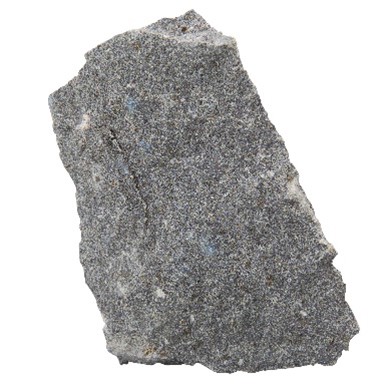 Image Retrieved From: https://store.schoolspecialty.com/OA_HTML/xxssi_ibeGetWCCImage.jsp?docName=F3852749&Rendition=Large
There are many other rocks and minerals that you could find, but like I said, I am very much an amateur, so I am just telling you what is most common and well-known. I hope you will find this guide useful - happy hunting!
About the Author
Carly Merriam completed her second year at Cape Breton University in April. She is from Parrsboro, started working at the Fundy Geological Museum as a summer student in 2017, and is now back again for her fourth summer in a row. She has done many different jobs at the museum such as giving tours in the gallery or on the beach, working in the lab to update the museum's collections data, and is now a semi-professional blog writer! Woot woot!