Spring at Acacia Grove: Introducing Mary Ann Norris
"Commenced working in the garden. I hope we are going to have spring."
Mary Ann Norris, April 29, 1837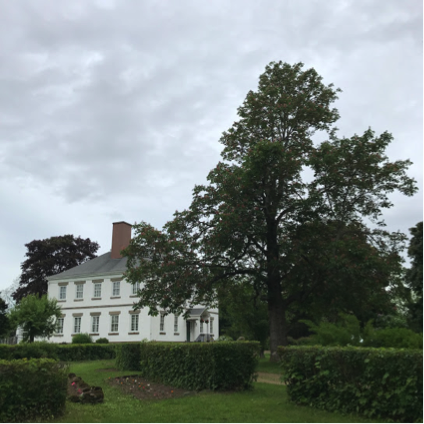 Acacia Grove (Prescott House Museum) in late May
​
Prescott House Museum is situated at historic Acacia Grove, a beautiful, whitewashed, brick Georgian mansion on the tip of Nesogwjtk, also known as Boudreau's Point or Starrs Point, overlooking the Annapolis Valley dikes, the town of Wolfville and the gentle waves of the Bay of Fundy.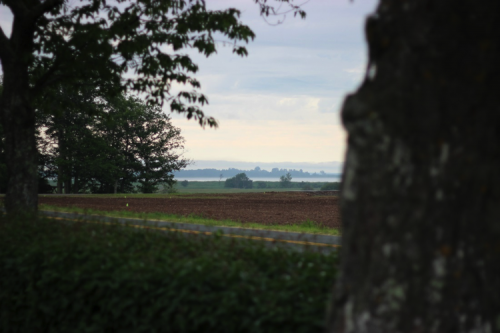 The view of the Bay of Fundy from the grounds of Acacia Grove
Surrounded by gardens, orchards, and pastures, Acacia Grove was home to Charles Ramage and Maria Prescott and the grounds and surrounding lands were the base for Charles R.'s agricultural and botanical research.  Starrs Point, the small planter community established following the Acadian expulsion, also boasted a small garrison, a church, ferry, and a collection of close-knit, upper-class Nova Scotian families.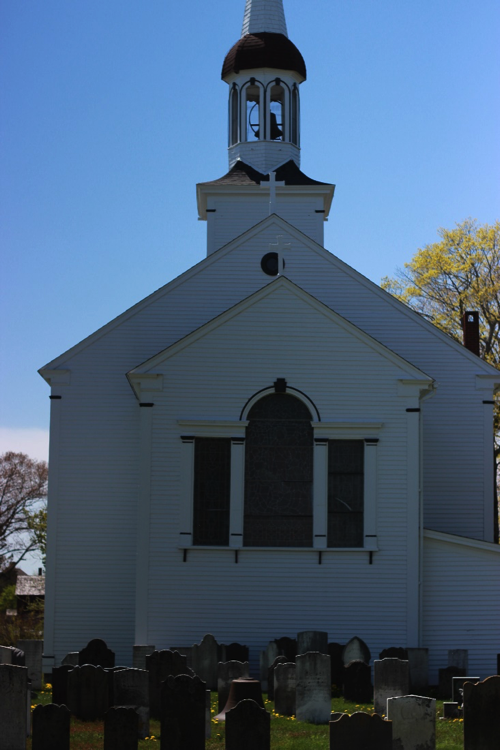 St. John's Anglican Church, Port Williams, Nova Scotia. Built between 1804-1811
The Norris' were the parish family. In 1797, Robert Norris was sent by the Anglican Church of England as a missionary to Nova Scotia and there, he met his wife Lydia Prescott, Charles Ramage Prescott's sister. In 1806, Robert was given the rectory of Cornwallis and Horton and they settled in Starrs Point, close to Lydia's family. They had two daughters together -Mary Ann and Catherine- and when Mary Ann turned 17 in 1818, she began keeping a regular journal. 
Mary Ann Norris wrote down every daily happening as she transitioned into adulthood: church sermons, visiting family and friends for tea, dances, births and deaths, farming and gardening--each page gives a fascinating glimpse into the life of a regency teenager, a real-life version of a Jane Austen character. 
Springtime
"Commenced gardening in earnest."
Mary Ann Norris, April 23, 1831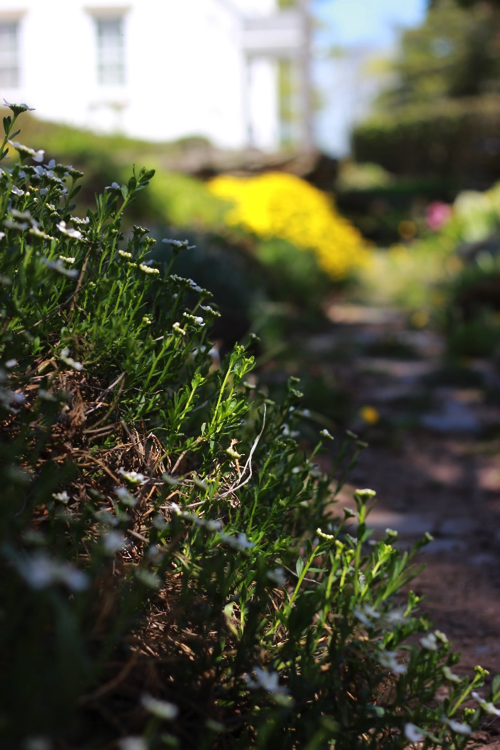 Springtime in the rock garden at Prescott House Museum
Beginning in March, Starrs Point woke up from long, cold, sleepy winters and new life. Sleighs would be switched out for the wagon and there are lots of references to bad roads and terrible weather. Mary Ann wrote of cold springs, damp springs, warmer-then-usual springs, even a muddy spring. On March 29, 1824, she disgruntledly writes, 
"we had a terrible walk. I lost my galoshes twice in the mud."
Every spring, she would describe the ending of winter-time projects and all the new garden and planting projects springing up around Starrs Point and. A warm March would allow for early preparation of the rich farmland over the dikes. 
​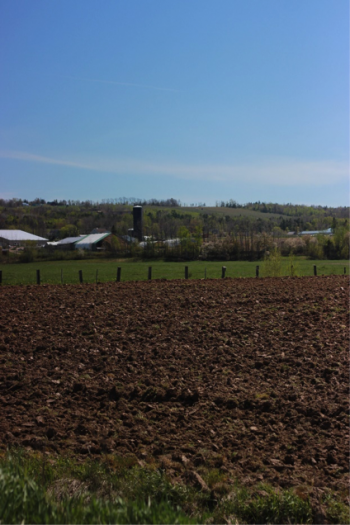 A freshly tilled field on the dikes between Port Williams and Greenwich
On March 25, 1825 Mary Ann wrote,  
"Finished my quilt today.  Lavinia brought her work over in the afternoon and sat with us.  Mr. Allison is sewing grain today on the dyke.  This is an uncommon fine spring.  The oldest inhabitants say they never saw so pleasant a season as this has been throughout. "
April usually had a few days set aside to make up batches of lye soap. One year she wrote of her Uncle Charles (Charles R. Prescott) grafting some of his famous apple trees, and another year, she describes sending flower seeds in a letter to a friend.
 In May, she often wrote of the first asparagus harvest and planting potatoes, and early June saw planting, warm sunny weather, and days spent in the garden.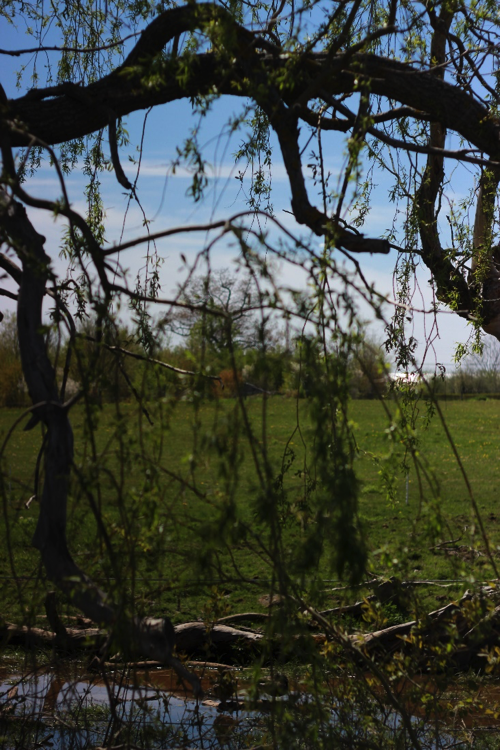 Starrs Point Town Plot in Late May
In between the weekly descriptions of her father's church sermons, there are also descriptions of long wash days, linens being ironed, exteriors white-washed, servants hired and dismissed, and even regular choir practices. Marriages, births, sicknesses, and deaths are scattered in the pages of each annual spring. 
Nearly every day mentions tea; weekdays are filled with either walks to the neighbours and relatives for tea or receiving visitors at the parish house in the town plot. Longer days led to the last of the evening dances and card games that filled social life in Starrs Point from September to May.
"I spent the night at Mrs. Leonard Allison's.  We played 'How do you like it' and danced a quadrille."
Mary Ann Norris, May 17, 1821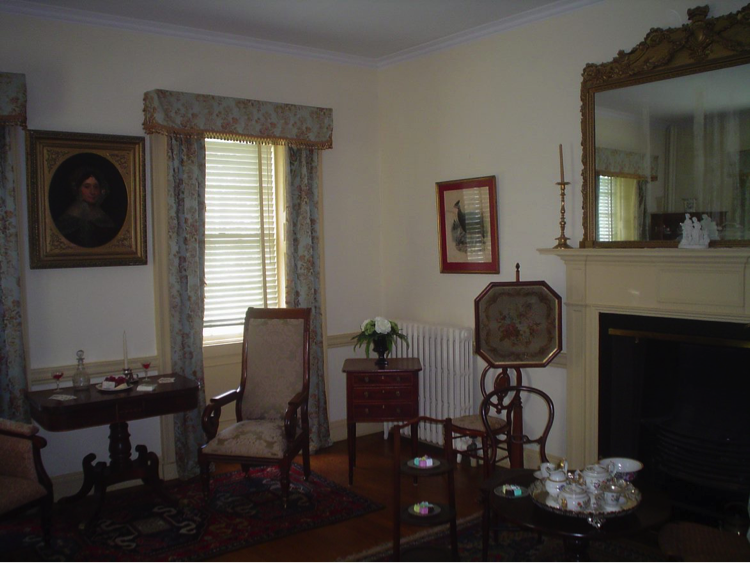 The Drawing Room at Acacia Grove where Mary Ann had tea during the day and played games and danced in the evenings
Upon her father's death in late 1834, Mary Ann inherited the family farm. The following spring of 1835, Mary Ann travelled by steamboat to Saint John to visit her beloved sister Catherine. Following her return to Cornwallis, she began to keep ledgers at the end of her diary for all her farm expenses. The detailed accounts paint a picture of a strong, competent farmer and landowner.
Mary Ann Norris continued to journal off and on until 1838, and the final spring-time entries in her diary include mentions of hiring and firing servants, errands, farm business, teas, her deep friendships with her sister Catherine and cousin, Martha Prescott, and church life.  Her diary covers two full decades of life, from the age of 17 to the age of 37 and gives a unique look into life as a young, unmarried woman in early 19th century rural Nova Scotia.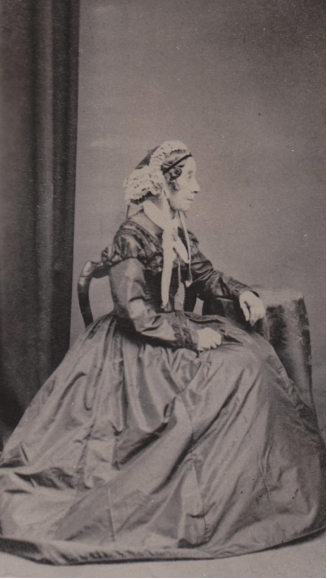 Mary Ann Norris later in life. She lived to be 79 and was passionate about Sunday school work with local children.
This 2020 season, Prescott House Museum's social media will follow along with Mary Ann Norris and other special Acacia Grove characters as we explore the history and culture and celebrate the seasonal changes to the gardens and fields of Starrs Point. Subscribe to our social media and check back in for future blog posts!