931.005.001-Bobolink Study Skin
Inspiring Landscapes
For such a small province, Nova Scotia's landscapes are remarkably diverse – forests, barrens, wetlands, rivers, lakes, more than 13,000 kilometres of coastline - all built on a diverse geological history.
How do we connect to our natural environment? Traditionally, the Mi'kmaq honour the balance between the natural and human worlds. Early settlers, including Acadians, Gaels, and African Nova Scotians, tilled the soil to survive. Increasingly, people sought to commercialize our natural resources – with serious consequences. Today resources are dwindling. Habitats are threatened. Species are becoming extinct. The climate is changing.
Fortunately, attitudes are also changing. Nova Scotians are taking steps to reduce our impact on the environment. We now have a deeper appreciation for the value of our natural surroundings. Which outdoor spaces in Nova Scotia do you treasure most? Are they being protected?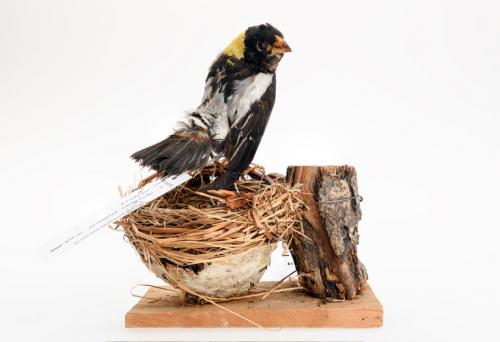 ​
66114 - Bobolink (bird) Mount
Eons of Stories
Our collection provides a record of Nova Scotia's natural history on a geological timescale, from fossilized dinosaur footprints to the recent invasion of the brown spruce longhorn beetle. You'll find plenty of evidence of environmental changes – some gradual, others catastrophic – as plants and animals have arrived, adapted and sometimes disappeared forever. Our hope is that the specimens we collect today will give future Nova Scotians a better understanding of their natural surroundings.
Many museum sites help you connect with inspiring outdoor spaces, including those featured below.
In Tatamagouche, take a walk through the beautiful wooded gorge along Matheson's Brook, which has been powering the Balmoral Grist Mill since 1874
At the Uniacke Estate Museum Park in Mount Uniacke, explore the 12-kilometre trail system that includes wetland and forest sections
The Museum of Natural History in Halifax provides a window into natural environments like Sable Island and The Gully (the largest underwater canyon in eastern North America) – places that few of us will ever get to experience in person