The Nova Scotia Museum is responsible for the provincial collection of over one million artifacts and specimens. As well, we oversee the maintenance of more than 210 buildings, four floating vessels and nine locomotives. 
Mastodon Femur
This Mastodon femur, currently on display at Baile nan Gàidheal | Highland Village as part of the travelling exhibit "Age of the Mastodon", was found in Middle River, Cape Breton, Nova Scotia. This bone has a big history.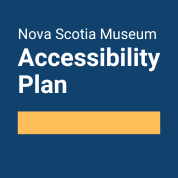 This year the Nova Scotia Museum developed an overarching accessibility plan that will guide us to become more accessible. Each of our 28 sites will use this plan to develop their own plans based on their own accessibility needs.
Research is one of the fundamental activities of the Nova Scotia Museum. Our publications are available electronically through an Open Journal System catalogue hosted by Dalhousie University.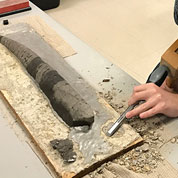 Delicate fossils found in museum are cleaned, repaired, and mounted in archival supports when the fossils are put on display or used for research. Check out our blog posts from Robbie Hussey and Tim Fedak.
Tag us in your photos #atNSM!
Sign up for Nova Scotia Museum E-events, your monthly email update on all the latest events from across the Nova Scotia Museum.