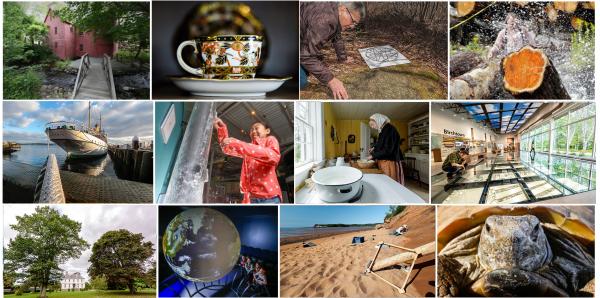 Celebrate 150 years rich with stories
We invite everyone to share their love for our diverse Nova Scotian culture, heritage and landscapes by visiting our family of 28 sites to celebrate 150 years of the Nova Scotia Museum.
Telling Nova Scotia's Stories Since 1868
One of Canada's oldest provincial museums, the Nova Scotia Museum provides a fascinating, rich narrative of our human and natural histories. To do this story justice, we collect objects and specimens, nearly a million and counting, that span hundreds of millions of years. We hope our collections, exhibits, buildings, programs, and publications will spark your imagination and give you insight into Nova Scotia's rich heritage.
Conveniently Located – Everywhere
We are the most decentralized museum in Canada. You can take the wheel of a 1933 pumper at the Firefighters' Museum in Yarmouth or immerse yourself in Gaelic culture at the Highland Village Museum in Iona. You can get up-close and personal with dinosaurs at the Fundy Geological Museum in Parrsboro or visit Gus the Gopher Tortoise at the Museum of Natural History in Halifax. In all, there are 28 museums in our family, including over 200 heritage buildings, four floating vessels and nine locomotives. All Nova Scotians have a voice in telling our diverse story.
From Dinosaurs to Ice Skates
Our collections, nearly a million objects and growing, reflect the incredible diversity of Nova Scotia's human and natural histories. Visit us and you'll discover ...
The world's smallest dinosaur footprints
A Mi'kmaw chief's birch bark gun powder canister
Models of rare orchids that grow in Nova Scotia
A cribbage board made from Titanic "wreckwood"
World-famous ice skates from Dartmouth's Starr Manufacturing Company
Where Objects Come to Life
Nova Scotians are natural-born storytellers. At the museum, we develop our collections with a view to telling stories – tales of intrigue and adventure, exploration and discovery, tragedy and triumph. We provide visitors with a better understanding of this special place.
Find It Here
Are you a palaeontologist with a special interest in Jurassic-aged fossils? Or an eight-year-old who wants to learn more about butterflies? Maybe your grandfather was a Rum Runner and you want to find out just what he was up to. Our exhibits, programs and publications appeal to a wide range of interests and provide ideal opportunities for self-directed learning. And our staff are happy to answer your questions or steer you in the right direction.
You're Invited to Help Us Make History
We want our exhibits to inspire an ongoing dialogue both in person & online. For our special NSM150 exhibit - Museum Making an Invitation - we are asking you to help us co-create the museum of tomorrow.