Maritime Museum of the Atlantic, Halifax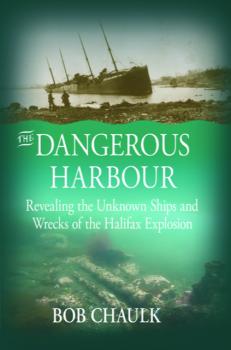 Book launch, talk/signing by author Bob Chaulk
Tuesday Night Talk
November 21, 6:30 pm
Many fine books have been written about the Halifax Explosion but there is a gaping hole in our knowledge of this defining event—the story of the ships. There were well over 150 vessels in the harbour that day. We know next to nothing about them.
The Dangerous Harbour: Revealing the Unknown Ships and Wrecks of the Halifax Explosion tackles the huge job of identifying and telling the stories of the ships and the sailors who manned them.
Drawing on more than 1,200 dives in Halifax Harbour, this is Bob Chaulk's sixth book about the seas and sailors of Eastern Canada. Bob is a popular writer and speaker on nautical history and is the author of Atlantic's Last Stop: Courage, Folly and Lies in the White Star Line's Worst Disaster Before Titanic. He has just returned from Liverpool, UK, where he presented the story of Nova Scotia's worst shipwreck in the city from which the Atlantic sailed.