For seven days in March 2015, museums across Canada and around the world lit up Twitter for a real-time international celebration of art and culture.
Globally, there were more than 600,000 Tweets using #MuseumWeek or one of the 7 daily hashtags. Those tweets were viewed over 237 million times on Twitter and across the web. This map summarizes the global reach of #MuseumWeek.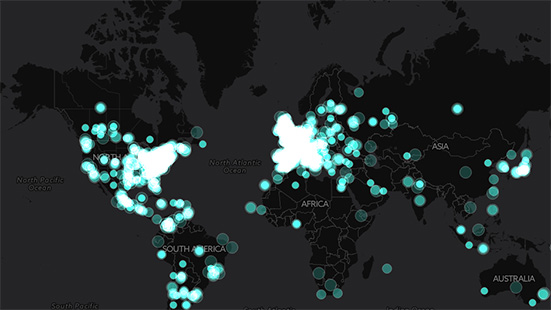 ​
For the first day of #MuseumWeek the hashtag was #secretsMW--an insider view of what goes on behind the scenes at museums.
That morning a bunny left at the Museum of Natural History over March Break caught the eye of our Online Marketing Officer, Victoria Castle. She tweeted this:
I spent the weekend at the Museum of Natural History. If you're looking for me I am OK. #Halifax DM us #foundbunny pic.twitter.com/Tbye03j1kX

— Nova Scotia Museum (@NS_Museum) March 23, 2015
An hour later, the Curator of Visitor Experience, Jeff Gray, and Victoria decided to play on the #secretsMW theme and take #foundbunny on a behind the scenes tour of the Museum of Natural History.  Victoria toured the museum with #foundbunny. Before the tour ended we were trending across Canada. Within hours, #foundbunny had gone viral.
Our #foundbunny tweets that day reached over 178,000 people. The rest of #MuseumWeek saw it reaching over 400,000.
The story was featured on the Huffington Post, Buzzfeed, Good Morning America, ABC News, and the Daily Mail websites.  #foundbunny was also on the front page of the Toronto Star.
We were overwhelmed by the response and the many requests to give #foundbuuny a name and a home. Our hope is for #foundbunny to be returned to his family. Until then, #foundbunny will remain safe and sound at the museum--we will let you know when he goes home.
Thank you.