Maritime Museum of the Atlantic, Halifax
7 pm
Built in 1889, the Halifax Graving Dock was at the time the largest dry dock on the Eastern seaboard of North America.  With Halifax the summer headquarters of the Royal Navy's North America and West Indies Station throughout most of the 19th century, the Graving Dock was designed to accommodate its largest warships.  Constructed during the period of transition from sail to steam power, it is the only remaining structure of the Victorian-era navy in Halifax today, and Halifax's sole graving dock, still performing the role for which it was created over a century-and-a-quarter ago: repairing and refitting warships.  The Graving Dock remarkably survived the Halifax Explosion in 1917, the largest man-made explosion to that point in history, with ground zero of the blast a mere 300 yards away.  The aftermath of that catastrophe would herald the birth of modern shipbuilding in Nova Scotia.  This talk will examine the genesis of the Halifax Graving Dock, the early decades of its existence, the immediate impact of the explosion and what that event would hold for its future.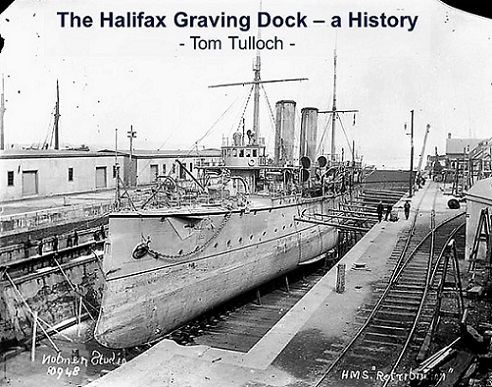 Tom Tulloch served 37 years in the Royal Canadian Navy, retiring as a Captain. He commanded two HMC Ships at sea and held leadership roles ashore and afloat.  Over the years he deployed for NATO Cold War deterrence operations in the North Atlantic and for UN embargo enforcement, post-9/11 counter-terrorism and NATO counter-piracy operations throughout the Middle East; he was awarded the Meritorious Service Medal for his leadership in action against Somali pirates.  After leaving the Navy he served for two years as the Special Adviser to the President of Irving Shipbuilding, the current owner and operator of the Halifax Graving Dock.  A Dalhousie and Royal Military College graduate, Captain Tulloch is also a Fellow of the Royal Institute of Navigation and an Honorary Director of the Halifax Military Heritage Preservation Society.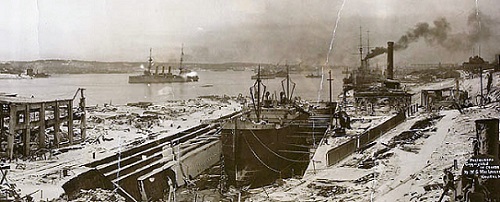 The Halifax Military Heritage Preservation Society is a volunteer educational society incorporated under the Societies Act and is committed to promoting public awareness of and appreciation for Halifax's profuse and diverse military heritage.
For additional information:
Richard MacMichael
902-424-8897
richard.macmichael@novascotia.ca