Maritime Museum of the Atlantic, Halifax
This talk by Leon Matthys is an introduction to the general public on the tragedy that took place in the Harbour and to the realm of stamp collecting, philately and social history and postal history.  
Born in Inverness, Nova Scotia in the 1960's, Leon Matthys moved to Ontario as a teenager.  However, during his childhood, he was introduced to stamp collecting by his father with stamps bought from mail-order houses, the local post office, and department stores.
As a young adult, Leon, put stamp collecting on hold to pursue a career in computers.  In 2002, he took up the hobby again. Entering organized philately in later life, he joined several stamp clubs and held executive and director roles on committees such as Membership Chairman, Webmaster, and President.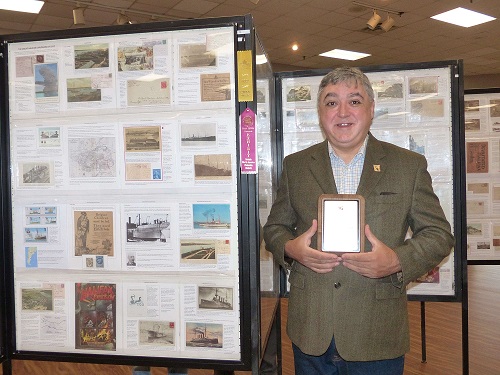 Specializing in Nova Scotia as a topic, he collects mostly Canadian stamps and ephemera. He loves to do research and create competitive stamp displays, inspired mostly by Canadian historical themes, such as the 5‑panel 2017 National Gold Ribbon award winning exhibit featured here. 
Using the medium of stamp collecting, with plenty examples of mailed postcards, letters, business stationery, and various relics of the time are featured in this everchanging and evolving display. 
A companion multimedia slide show goes with this recount of the epic catastrophe which took Halifax Harbour by surprise a century ago.  Topics which recount Canada's least known and worst disaster range from: the ships' collision, the devastating explosion and its aftermath and to recovery and reconstruction. 
For additional information:
Richard MacMichael
902-424-8897
richard.macmichael@novascotia.ca