Maritime Museum of the Atlantic, Halifax
7:00 pm
The Maritime Museum is pleased to welcome Sarah-Jane Raine for a presentation on the history of the Armdale Yacht Club.
Created in 1937, the Armdale Yacht Club is located on Melville Island, which has a long and varied history as a family estate, hospital, quarantine station, military prison, prisoner of war camp, recruit training station for the British Foreign Legion and an ammunition depot during World War Two. The Military moved out in 1945 and soon after, the founders of Armdale Yacht Club negotiated a long-term lease for the land with the Department of National Defense Five buildings of that historic period remain. One of them is the club house. Built in 1808 it stands on the highest point of land on the island and gives a panoramic view of the Northwest Arm, the mooring field, marinas and yard activities.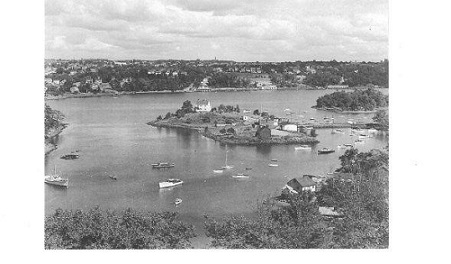 AYC continues to foster self-reliance among its members in the maintenance of their boats. The Club's character, however, has altered over the years – from open Snipes, Sabots, Bluenoses, Roues, two power boats to bigger power boats and fiberglass auxiliary sail boats.
In a breathtaking setting replete with history, AYC finds no equal in Canada. The Armdale Yacht Club offers a complete range of facilities and services to meet the needs of today's yachtsmen.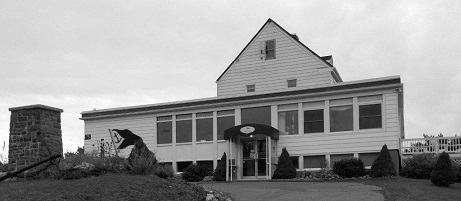 Sarah-Jane Raine grew up on the Northwest Arm as her family lived on the lower end of Quinpool Road near the Rotary.  She has always been on the water either swimming or boating.  At the present time she lives on the shore of the NW Arm between the Rotary and Regatta Point.  Sarah-Jane started sailing out of the Armdale Yacht Club on a Roue class as a young person, moved to a Bluenose class sailing and racing with her husband.  She moved to Fredericton, NB, for work, for some years and obtained a sailboat and sailed and raced on the Saint John River System and Grand Lake.  She has cruised on the east coast of North America, Bahamas and British Virgin Islands.  Armdale Yacht Club has always been her home club and she is a Life Member of the Fredericton Yacht Club.  At the present time Sarah-Jane Raine is the Past-Commodore of the AYC.  She and her husband sailed their C&C 30, ROSALI II, from Fredericton to Halifax and still have this sailboat.  She is the Past National Administrative Officer for the Power Squadron and currently works on several committees National.  This organization teaches safe boating courses to boaters.  In her working life, she was in the insurance industry for forty years. 
For additional information:
Richard MacMichael
902-424-8897
macmicrs@gov.ns.ca